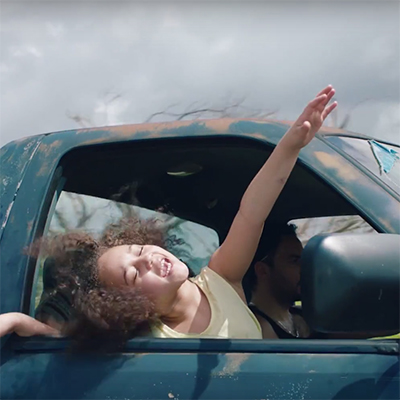 Hurray for the Riff Raff Shares New Video "Pa'lante"
"ONE OF THE MOST ARTICULATE SONGS OF A GENERATION" – NPR
AN INTIMATE GLIMPSE INTO THE PUERTO RICAN CRISIS, DIRECTED BY KRISTIAN MERCADO FIGUEROA + STARRING MELA MURDER OF "THE FLORIDA PROJECT"
Hurray for the Riff Raff's "Pa'lante" – the fervent call to arms for working class Latinx that was lauded as one of the year's best songs by Pitchfork, NPR Music, Entertainment Weekly, Billboard, The Guardian + more – serves as the powerful musical force behind a new short film directed by Kristian Mercado Figueroa (De La Soul, Hannibal Burress). Shot in Puerto Rico earlier this year, alongside Alynda's hometown in New York, "Pa'lante" offers an intimate, first-hand glimpse of life after Hurricane Maria via the journey of single mother Milagros (played by Mela Murder of the acclaimed film The Florida Project), her ex-partner Manuel (Kareem Savinon), and her family – a living testament not only to the everyday struggle after the storm displaced thousands last year, but also the strength, beauty, and identity of an island that embodies the phrase ("forward") as its national philosophy.
Shooting on location struck close to home for everyone on set, many of whom are of Puerto Rican descent. Hurray's own Alynda Segarra is shown alongside images of her father and overlaid with archival footage of civil rights activist group the Young Lords. Member and founder of the Nuyorican Movement, Pedro Pietri, is also shown reciting his poem "Puerto Rican Obituary" – the epic work that would come to serve as inspiration for the song almost 50 years after it was first published.
For the director Kristian, this was a very personal video as his family was displaced by Hurricane Maria and his grandfather passed in its aftermath: "We really wanted to showcase talent of color, stories by people of color – it was important to me to make sure this was a diverse production that had Puerto Ricans working on it. The conditions on the island are still very poor. During the production we could all feel how painful it all was, how it's been so long without enough help. The island is still strong, the people always positive, but you can't help but feel the desperation and pain of the colonial condition, the sense of abandonment. Pa'lante is a very Puerto Rican mindset – be it a family struggling to stay together, or recovering from the hurricane, the Puerto Rican people are strong and they will always stand and move forward. And there is a beauty to that."
For Mela Murder, it was her first time visiting her homeland since Hurricane Maria. "The character Milagros deeply resonated with me being that I am a single mother," she says. "Our lives are entirely different, but the fuel that keeps women like us going is exactly the same as it has been for generations before us – love. The island is alive with love so strong you can feel it in the breeze coming off the ocean. It made me feel so damn proud of my Boricua roots!"
"Pa'lante" aims to raise funds and awareness for the PRIMA Relief Fund, a collective dedicated to sustaining Puerto Rico's independent music and artistic community following Hurricane Maria. Learn about ways to support PRIMA Relief at their website: https://www.primafund.org
Hurray for the Riff Raff's "Pa'lante" was named "Best New Track" by Pitchfork upon its release ("the most hair-raising two minutes of music this year"), and was also hailed by NPR Music as "one of the most articulate songs of a generation." It serves as the hard-hitting closer for her acclaimed album 'The Navigator' (ATO Records), which earned career-best reviews for Segarra.
HURRAY FOR THE RIFF RAFF TOUR DATES
MAY 25 Sasquatch! Music Festival at The Gorge Amphitheatre – George, WA
MAY 26 Festival Lawn at Deer Lake Park with Bon Iver – Vancouver, BC, Canada
JUN 23 Arroyo Seco – Pasadena, CA
JUL 6 Summerfest – Milwaukee, WI
JUL 14 Mad Cool Festival Madrid, Spain
JUL 16 Poble Espanyol with Future Islands – Barcelona, Spain
JUL 17 Teatro Circo Braga, 04, Portugal
JUL 19 Colours of Ostrava Ostrava, Czech Republic
JUL 21 Pori Jazz – Pori, Southwest Finland, Finland
JUL 26 River & Blues at Wagner Park – New York, NY
AUG 17 Maha Music Festival – Omaha, NE