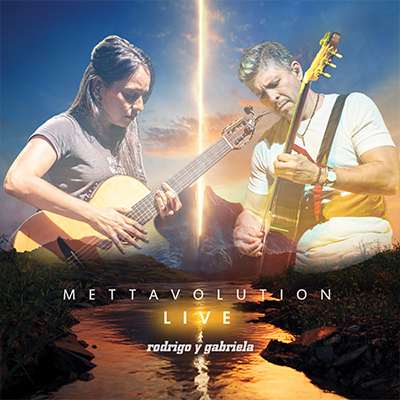 Grammy® Award-Winning Rodrigo y Gabriela Unveil All-New Double Live Album
METTAVOLUTION LIVE RECORDED DURING LAST YEAR'S
METTAVOLUTION WORLD TOUR
EPIC LIVE VERSION OF PINK FLOYD'S "ECHOES" OUT NOW
PRE-ORDER ALBUM NOW, AVAILABLE ON OCTOBER 2 HERE!
GRAMMY®-Award-winning guitar virtuosos Rodrigo y Gabriela have announced the upcoming release of METTAVOLUTION LIVE, an all-new double album recorded during last year's METTAVOLUTION World Tour. The 13-track collection arrives as a 2LP, 2CD, and digital download- the LP comes in a double gatefold pressed an black vinyl.
"Hearing this recording is to be able to reconnect with our marvelous fans from our live gigs during 2019," say Rodrigo y Gabriela, "the year we got to promote our METTAVOLUTION album all over the world. That was the very moment we felt truly complete as artists and musicians."
METTAVOLUTION LIVE is heralded by today's premiere of an awe-inspiring, 20-minute-plus live version of Pink Floyd's epic "Echoes," audaciously reimagined for two acoustic guitars and streaming now.
The release of METTAVOLUTION LIVE comes in the wake of a deeply creative period that Rod and Gab are continuing to experience in these pandemic days at home in Zihuatanejo, Mexico. One of the world's most in-demand live acts, the duo had planned to spend this summer celebrating METTAVOLUTION and their historic GRAMMY® Award triumph with an eagerly awaited world tour. Instead, they performed an extremely popular NPR Tiny Desk (Home) performance in April, and have been releasing their daily Lumbini Sessions with inspired live versions of their favorite metal songs, film themes, jazz tunes, RyG album cuts as well as covers of Motorhead, Billie Eilish, Dua Lipa, Dave Brubeck, Van Morrison, Lil Nas X, Radiohead and more.
WATCH NPR'S TINY DESK (HOME) PERFORMANCE BELOW
2019 proved a milestone year for Rodrigo y Gabriela, highlighted by the release of their GRAMMY® Award-winning new album, METTAVOLUTION. The duo's fifth studio LP and first album in five years and hailed by Pitchfork as "fast, heavy, and relentlessly precise," METTAVOLUTION ultimately earned Rodrigo y Gabriela their first-ever GRAMMY® nomination and first-ever GRAMMY® win for "Best Contemporary Instrumental Album." Rodrigo y Gabriela celebrated the album with a truly global 92-city work tour, performing METTAVOLUTION in its entirety each night alongside fan favorites and classic pieces from their beloved original canon. As now captured on METTAVOLUTION LIVE, the shows saw the virtuoso duo operating at the very peak of their powers, the perfect balance of melody and metal, fire and finesse, honed over two decades of musical collaboration.
Indeed, the new album stands out as some of the most powerful music of Rodrigo y Gabriela's remarkable career, including spectacular live versions of METTAVOLUTION's crunching "Terracentric" and propulsive title track. The duo's third official live release, METTAVOLUTION LIVE is further driven by breathtaking performances of such longtime concert favorites as "Diablo Rojo," "11:11," and "Tamacun," offering ample evidence of Rodrigo y Gabriela's staging virtuosity and dedicated commitment to using music as a positive force for healing and inspiration in trying times.
# # #
TRACKLISTING:
Krotona Days
Witness Tree
The Soundmaker
11:11
Diablo Rojo
Echoes
Mettavolution
Tamacun
Gabriela Solo
Electric Soul
Cumbe
Hanuman
Terracentric