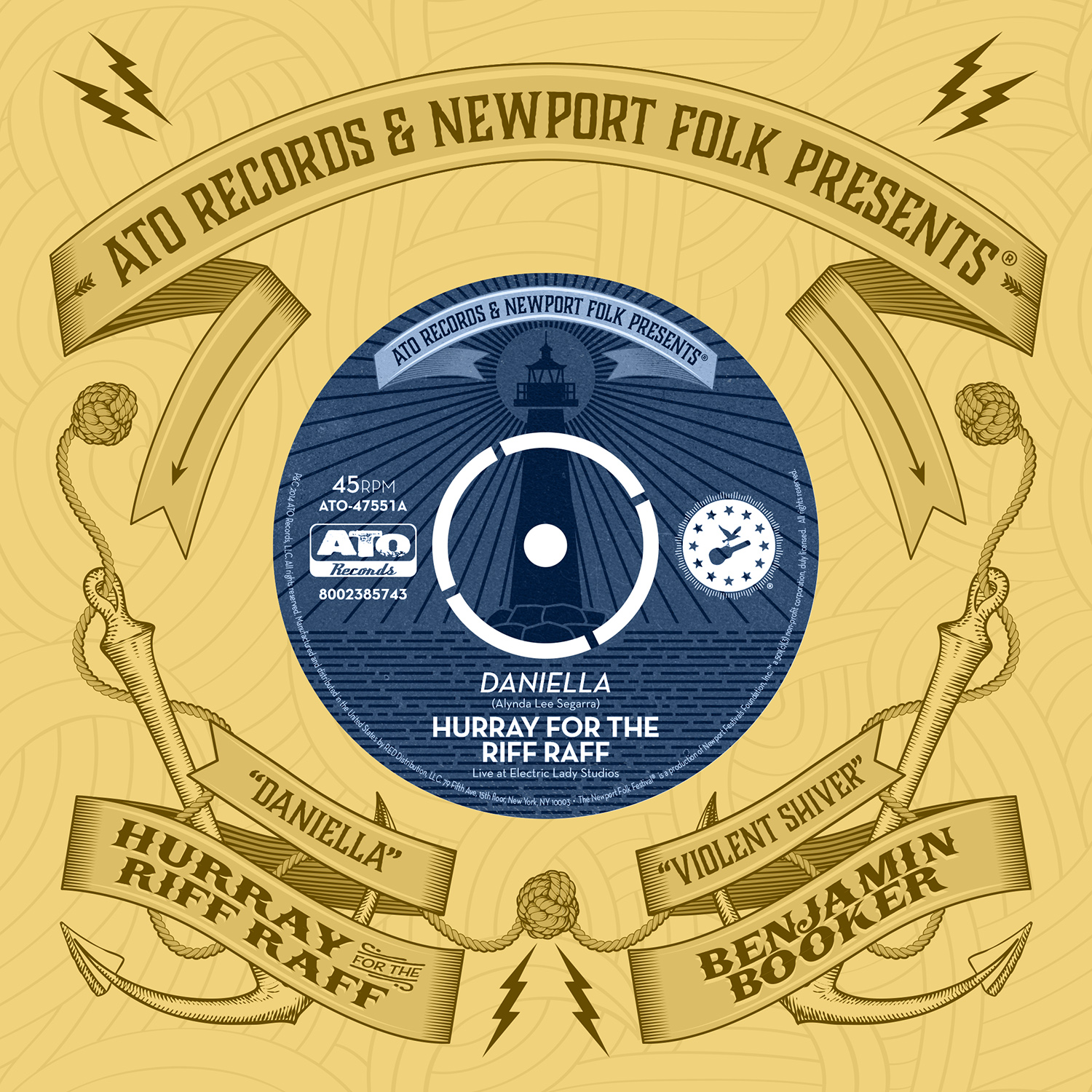 Newport Folk 7″ feat. Hurray for the Riff Raff & Benjamin Booker – Order Now
ATO Records and Newport Folk Presents(TM) have formed a label partnership celebrating the deep creative rapport between the label and the historic festival. Together we will curate a limited edition vinyl series featuring ATO recording artists who perform at the legendary festival. The repertoire will focus on unreleased material, b-sides, rarities and, of course, recordings culled from the festival. The releases will be sold at the festival, on ATO's online store and by independent retailers.
Newport Folk Festival producer Jay Sweet says, "ATO is a spiritual partner with so many bands; when we thought about doing some small batch vinyl the timing was serendipitous."  "ATO and our artist community greatly respect Newport Folk Festival so it's a tremendous honor to work alongside the historical festival," comments Jon Salter, ATO Records' General Manager. "The plan is to do a few releases per year, focusing on the quality of the material and its collectible nature."
The first release will be a limited edition 7-inch featuring two previously unreleased recordings: Hurray for the Riff Raff's"Daniella" will appear on the A-side backed with a live version of Benjamin Booker's "Violent Shiver." The 7-inch will be available via ATO Records' e-store beginning July 8 and will be sold on site at Newport Folk Festival ®, which will take place July 25-27, 2014. It will be available at select indie retailers beginning on August 5.
In addition to these two artists, ATO Records has Rodrigo y Gabriela, Caitlin Rose, J. Roddy Walston & The Business and Lucero performing at this year's festival.
"Daniella" is one of the first songs that Alynda Lee Segarra of Hurray for the Riff Raff ever wrote and she re-recorded it at Electric Lady Studios this past winter exclusively for the limited edition 7-inch. The band won many new fans with its stand-out performance at last year's Newport Folk Festival®, which led up to the release of Hurray for the Riff Raff's critically acclaimed album Small Town Heroes.
"Violent Shiver" is the first single from New Orleans-based Benjamin Booker, whose music has been hailed as "a quaking blues punk blitz" by NME. Booker will be making his Newport Folk Festival debut this year just before the release of his self-titled debut album, out August 19. The version of "Violent Shiver" that appears on the 7-inch was recorded in March 2014 at Good Danny's Studio in Austin, TX during a session for the online blog Daytrotter.com.