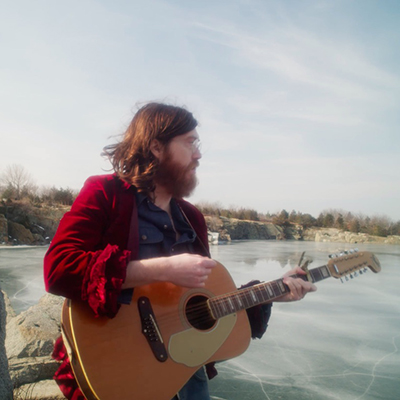 Okkervil River – New Videos
OKKERVIL RIVER EMBARK ON MYSTICAL JOURNEY IN EPIC NEW VIDEO FOR "PULLED UP THE RIBBON" 
WATCH "PULLED UP THE RIBBON" HERE
Okkervil River have released a new song and video "Pulled Up The Ribbon," the second new track from their forthcoming album 'In The Rainbow Rain,' out 4/27 on ATO Records. The epic and esoteric video, directed by Christopher Good, follows the band as they embark on a mystical journey that seems to transcend time.
"When I first started working on 'Pulled Up the Ribbon" I felt really excited about the melody and the chords in a way that made me nervous, because I felt pressure to write lyrics for it and nothing seemed quite right," says bandleader Will Sheff. "I started with something quite dark and violent, and it felt like a good direction but I kept hitting creative dead ends. And then I realized there was something in the melody and phrasing that seemed like it was about destruction and doom but also something else that felt like it was about creation and birth. So I decided to try to write a kind of praise song for the force behind all of those things. The song started as a waltz ballad, briefly turned into a Motown-style number, and then we streamlined it and Will Graefe added that hook. I had heard some of the great vocal performances on our keyboardist Sarah's album with her project Lip Talk and knew I wanted her to sing on the song, and she elevated it further. And then, when I took the song to Shawn Everett to mix, he stripped out a lot of the padding from the track and made everything more aggressive and skeletal, with the drums and bass way up in the mix, the beauty amped up but also the spooky stuff. This was the only one of Shawn's mixes where there were no notes, no tweaking. He played me the track and I said 'whoa' and approved it and we moved on."
"It's such a sweeping, rousing, almost elemental-sounding track," says Good. "I immediately thought of the rock beach in Rockport, Massachusetts' Halibut Point State Park as an appropriately evocative backdrop and then from there just let my mind wander!"
'In The Rainbow Rain' – produced by Sheff and mixed by Shawn Everett (Perfume Genius, Alabama Shakes, The War on Drugs) – is the group's most immediate and meaningful album to date. The record has earned early praise from NPR's All Songs Considered, who called the music "celebratory and uplifting." Read Sheff's statement on 'In The Rainbow Rain' here: http://bit.ly/2DakL3J
Okkervil River will tour in support of 'In The Rainbow Rain,' including a very special sold-out album release show at Rough Trade NYC on release day.
PRE-ORDER 'IN THE RAINBOW RAIN'
http://www.atorecords.com/rainbowrain
OKKERVIL RIVER TOUR DATES
Apr 27 – Brooklyn, NY @ Rough Trade NYC (Album Release Show) – SOLD OUT May 20 – Washington, DC @ The Black Cat
May 21 – Carboro, NC @ Cat's Cradle May 22 – Atlanta, GA @ Aisle 5
May 24 – Dallas, TX @ The Kessler Theater May 25 – Houston, TX @ The Heights Theater
May 26 – Austin, TX @ Mohawk (Hot Luck Festival) May 29 – Phoenix, AZ @ The Crescent Ballroom May 31 – Los Angeles, CA @ Teregram Ballroom June 1 – Santa Ana, CA @ Constellation Room June 2 – San Francisco, CA @ Bimbo's 365 Club June 4 – Seattle, WA @ Neumos
June 5 – Portland, OR @ Wonder Ballroom June 7 – Salt Lake City, UT @ The State Room June 8 – Denver, CO @ Bluebird Theater
June 9 – Omaha, NE @ The Waiting Room June 11 – St. Paul, MN @ Turf Club
June 12 – Chicago, IL @ Thalia Hall June 13 – Detroit, MI @ El Club
June 14 – Toronto, ON @ Horseshoe Tavern June 15 – Woodstock, NY @ Colony
June 16 – Boston, MA @ Royale
https://www.facebook.com/okkervilriver
https://twitter.com/okkervilriver