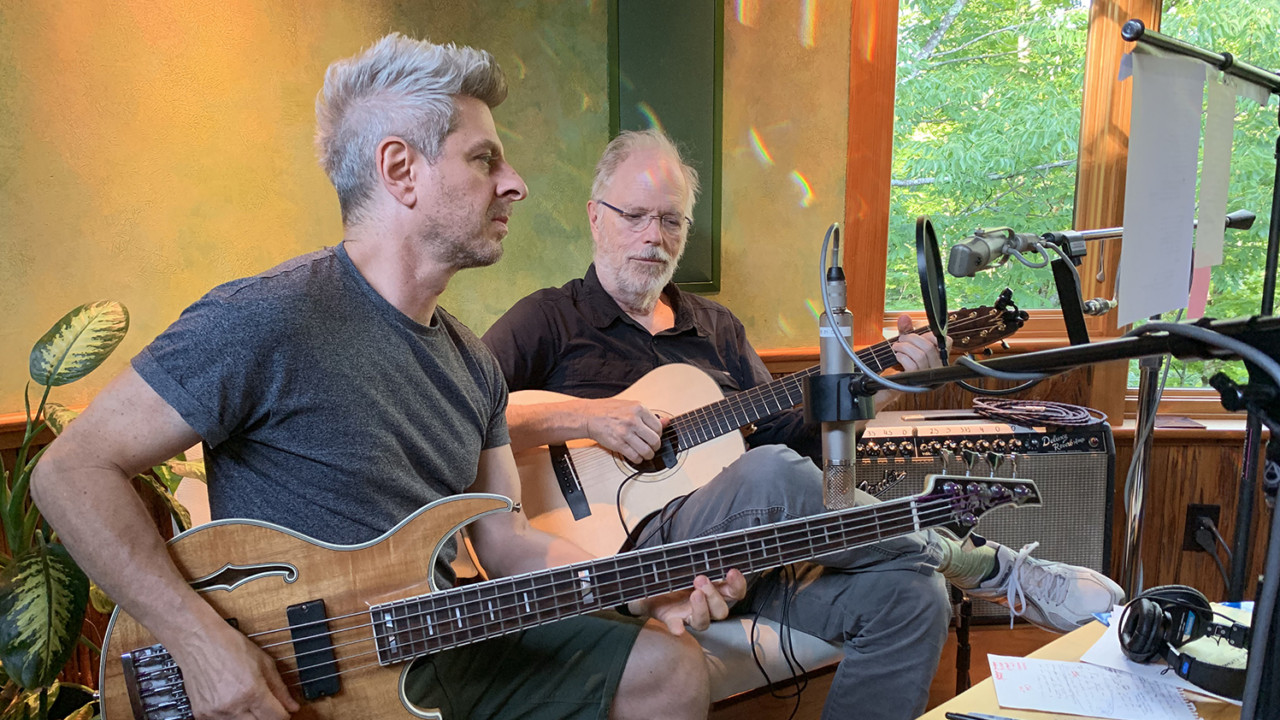 Leo Kottke & Mike Gordon
The unlikely partnership between acoustic guitar pioneer Leo Kottke and Phish bassist Mike Gordon continues with the long-awaited Noon, their first new album in 15 years. Couching late-night melancholy in a summer lilt, Noon features 11 tracks of warmly askew songs and intricate playing — and the intimate third voice created by Kottke and Gordon, two of the most accomplished and idiosyncratic instrumentalists in American music. As creative as it is dextrous, under other circumstances, Noon might be hailed as a breakthrough third album from a young band.
The return of an American guitar legend, Noon marks Leo Kottke's first studio record since his last collaboration with Gordon, 2005's 66 Steps, though he's continued to tour constantly. Beginning his career on John Fahey's Takoma label in 1969, Kottke virtually invented his own school of playing with his distinct, propulsive fingerstyle.
As a co-founder of live music heroes Phish in 1983, launching a solo career in the early '00s, Gordon's own big-eared musical vocabulary has created both a boundary-pushing discography and helped shape a generation (or two) of improvisers. The pairing of Kottke and Gordon began some two decades ago, when Gordon — a longtime fan — audaciously overdubbed a bass part over Kottke's 1969 solo track "The Driving of the Year Nail" and hand-delivered it to the veteran Minnesota guitarist. The result was 2002's acclaimed Clone.
Noon also finds the duo joined by Phish drummer Jon Fishman on five tracks, including a bopping low-key cover of Prince's "Alphabet Street." For Kottke, bringing Fishman into the fold has been a long time coming. Kottke met Gordon in Burlington, VT, and met Fishman, Leo says, "…somewhere in New York, a little earlier. Music tends to happen with friendship before anything else. If you can't get along, why go in a room with no windows with them? Playing is personal."
Though Noon largely captures the sound of an acoustic guitar playing with an electric bass, and there are a lot of live-in-studio performances, it is also far more than the sound of Leo Kottke and Mike Gordon playing in a room together. Recorded in New Orleans and Vermont, with music exchanged by file, tape-sealed boombox, sheet music, and face-to-face, Noon is the musically visible part of a conversation between Kottke and Gordon, his junior by 20 years. A panoramic collection of small, strange moments to parallel the serendipitous turns of its extended five-year creation, Noon is a collaboration as singular as its musicians.
With Gordon composing, recording, and revising bass parts with longtime collaborator and Noon producer Jared Slomoff, and in-the-room performances supplemented by micro-overdubs, Noon is far more complex than might seem on first listen. As songs and arrangements were thought and rethought, Slomoff and Gordon fit puzzle pieces together, including nearly ambient appearances by pedal steel player Brett Lanier (Barr Bros.) and cellist Zoë Keating (Imogen Heap).
For both Kottke and Gordon, the result is a new understanding of their collaboration about how Kottke's quizzically rhythmic guitar fits with Gordon's quizzically melodic bass, a musical world of questions nested inside questions. Noon is about mood, be it the shadowy dream-love of Kottke's "Noon To Noon," the haunted surreality in a stripped-back version of "Peel" (a staple for Gordon's solo band), or–an old standby–Kottke's stark rethinking of the Byrds' "Eight Miles High," its modal jam re-propelled by Gordon. Both are eager to keep playing together.
"The vibe is very different from the other two albums," says Gordon. "I was hearing a darkness in the material Leo was bringing, and some of the material that I wanted to bring, that I thought just reflected going through 10 more years of life. There are overdubs, but it's still more like you're in a cafe or a living room with these two guys. And even when we had drums, we wanted to maintain that feeling."
Kottke credits Gordon for the album's total picture, and says, "I just knew there was a shape and that we were following it. We were trying to get to that place that we get to in a little room, just chasing each other. We've found that at soundchecks, and at my place, or his place, or some motel room. We wanted to get that late night feel. It's a more intimate record than the others are, I think there are depths to it."