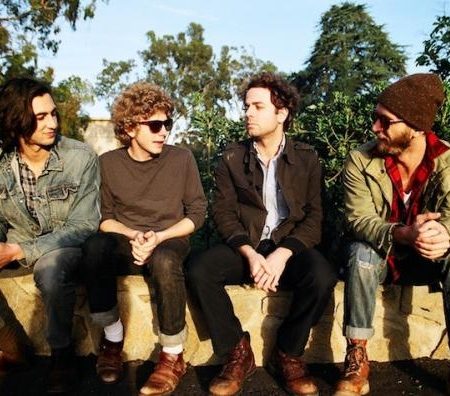 Pre-Order New Dawes Album / Band to Tour with Alison Krauss
ATO Records and Dawes have launched a unique pre-order campaign that will allow fans to purchase the record in advance of release date and receive an immediate digital download of an exclusive three-song promotional EP, entitled Suitcase, featuring "Time Spent In Los Angeles," and two B-sides from the album sessions, "All My Failures" and "Strangers Getting Stranger."
In addition, all pre-orders will automatically be entered-to-win a super deluxe grand prize suitcase loaded with the following items:
-Vintage 3' x 2' suitcase
-Double Gatefold packaging including photo collage and lyric insert
-CD version of album (sleeve without artwork)
-CD version of 'Suitcase' EP (sleeve with full-color artwork)
-Series of 5 (5×7) black and white lithograph prints in commemorative brown paper jacket sleeve with band logo
-12×12 black and white photo print autographed by Dawes
-Digital download of video series featuring interview, candid, recording, and live performance footage
-Digital delivery of 11-track album in its entirety on 6/7/11 in premium DRM-free 320 kbps MP3, Apple Lossless, or FLAC files
-Grado 225i Prestige Series headphones
-WILL Leather Goods Hopper Messenger Bag and Slim Billfold Wallet
-Leather notebook with lyrics signed by Taylor Goldsmith
-Black album artwork t-shirt
Fans can also pre-order Nothing Is Wrong online via the band's website in the following formats and pricing configurations (visit www.dawestheband.com for details):
Deluxe LP (Limited Edition) + Immediate Download of 'Suitcase' EP ($28.99/$40.99 w/ T-Shirt)
Double LP + Immediate Download of 'Suitcase' EP ($18.99/$30.99 w/ T-Shirt)
CD + Immediate Download of 'Suitcase' EP ($12.99/$24.99 w/ T-Shirt)
Digital + Immediate Download of 'Suitcase' EP ($10.99/$22.99 w/ T-Shirt)
Dawes fans are in luck. The band has confirmed 17 more tour dates, this time supporting Alison Krauss & Union Station. These dates will begin on July 27th in Danbury, CT and run through August 27th.
And if 17 more tour dates doesn't sound like enough, you can pre-order their highly anticipated album, Nothing Is Wrong, which is due out on June 7th at www.dawestheband.com and receive an immediate digital download of an exclusive three-song EP titled Suitcase, featuring "Time Spent In Los Angeles," and two B-sides from the album sessions, "All My Failures" and "Strangers Getting Stranger."
Check out the complete list of tour dates below!
May
11 – Tampa, FL – State Theatre
12 – St Augustine, FL – Cafe 11
13 – Atlanta, GA – Variety Playhouse
14 – Birmingham, AL – Secret Stages Music Festival (2PM)
14 – Nashville, TN – Cannery Ballroom
15 – Asheville, NC – Orange Peel
17 – Charlotte, NC – Visulite Theatre
18 – Carborro, NC – Cat's Cradle
19 – Athens, GA – Melting Point
20 – Chattanooga, TN – Nightfall Series (Free Show)
23 – New Haven, CT – Toad's
24 – Portland, ME – State Theatre
25 – Northampton, MA – Iron Horse
26 – Burlington, VT – Higher Ground
27 – Montreal, OC – Le National
28 – Toronto, ON – Opera House
29 – Detroit, MI – St. Andrew's Hall
June
01 – Louisville, KY – Headliners
02 – Indianapolis, IN – The Vogue
03 – Chicago, IL – The Vic Theatre
05 – Hunter, NY – Mountain Jam (1:30PM Set)
06 – St. Louis, MO – The Pageant
07 – Louisville, KY – Iroquois Ampitheatrer
08 – Columbus, OH – LC Ampitheatre
09 – Pittsburgh, PA – Stage AE – Indoors
10 – Philadelphia, PA – Mann Center for Performing Arts
11 – Vienna, VA – Filene Center at Wolf Trap
13 – Vancouver, BC – Vogue Theatre
14 – Seattle, WA – Moore Theatre
15 – Portland, OR – Crystal Ballroom
16 – Bend, OR – Athletic Club of Bend
17 – Chico, CA – El Rey Theatre
18 – Los Angeles, CA – Orpheum Theatre
20– San Diego, CA – House of Blues
21 – Tucson, AZ – Rialto Theatre
22 – Phoenix, AZ – Marquee Theatre
23 – Las Vegas, NV – Silverton Casino
24 – Reno, NV – Knitting Factory
25 – Oakland, CA – Fox Theatre
26 – Atlantic City, NJ – Dave Matthews Band Caravan
July
02 – Quincy, CA – High Sierra Music Festival
07 – Winnipeg, MB – Winnipeg Folk Festival
08 – Winnipeg, MB – Winnipeg Folk Festival
09 – Ottawa, ON – Ottawa Bluesfest
11 – Quebec City, QC – Quebec City Summer Festival
27 – Danbury, CT – Ives Concert Park
28 – Boston, MA – Wang Center
29 – Chautauqua, NY – Institution Ampitheatre
30 – Charlottesville, VA – Charlottesville Pavillion
August
02 – New York, NY – The Beacon Theatre
05 – Gilford, NH – Meadowbrook Pavillion
06 – Mashantucket, CT – MGM Grand Theatre
09 – Bethlehem, PA – Musikfest
11 – Cary, NC – Koka Booth Ampitheatre
12 – Asheville, NC – The Biltmore
13 – Atlanta, GA – Fox Theatre
14 – East Hampton, NY – Music to Know Festival
19 – St. Augustine, FL – Augustine Ampitheatre
20 – Ft. Lauderdale, FL – AuRene Theatre
21 – Clearwater, FL – Ruth Eckerd Hall
26 – Nashville, TN – The Ryman
27 – Nashville, TN – The Ryman