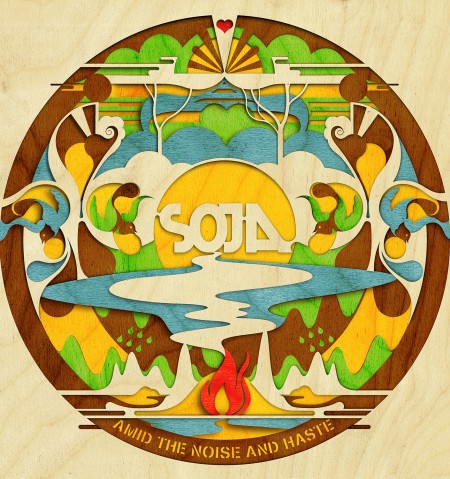 Pre-Order SOJA's New Album "Amid the Noise and Haste" and Listen to a New Track w/Damian Marley
SOJA's new album "Amid The Noise And Haste" was produced by multiple GRAMMY award winning Jamaican producer Supa Dups (Bruno Mars, Eminem, Rihanna, John Legend) and and features Damian "Jr. Gong" Marley, Michael Franti, Nahko, and more. The new album is the follow up to critically acclaimed Strength To Survive which debuted in the Billboard Top 40.  The album cover art was designed by the British artist Steven Wilson and was carved by original wood pieces. See full track listing below.


SOJA's Soulshine summer tour launches this week in California and continues in amphitheaters across the country through August. See below for the full routing with Michael Franti & Spearhead, Brett Dennen and Trevor Hall.
Amid The Noise And Haste Track listing
1.   Tear It Down
2.   Your Song (feat. Damian Jr. Gong Marley)
3.   I Believe (feat. Michael Franti and Nahko)
4.   Easier (feat. Anuhea and J Boog)
5.   Shadow (feat. Trevor Young of SOJA)
6.   Once Upon A Time
7.   Promises And Pills (feat. Alfred The MC)
8.   Signature
9.   She Still Loves Me (feat. Collie Buddz)
10. Wait
11. Better
12. Treading Water
13. Lucid Dreams (feat. Nahko)
14. Driving Faster (feat. Bobby Lee)
15. Talking To Myself
16. Translation Of One
17. Like It Used To (feat. Mala Rodriguez)