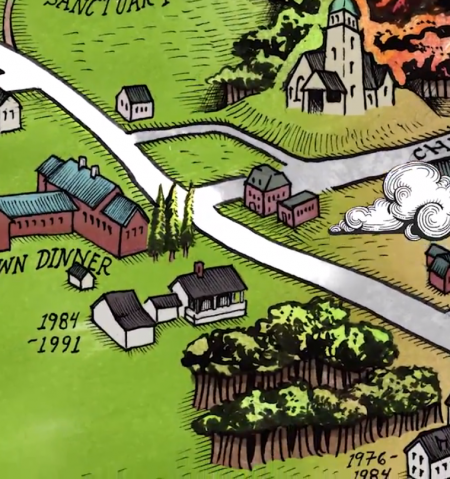 Okkervil River Reveal Artwork & Launch Pre-Order for "The Silver Gymnasium"
PRE-ORDER THE SILVER GYMNASIUM

Okkervil River just released a new video previewing the packaging of 'The Silver Gymnasium,' which comes with a central gatefold map drawn by William Schaff, depicting Will Sheff's childhood town of Meriden, NH, circa 1986, where his parents worked as teachers for a boarding school. The video intertwines images from the map with mid-1980s photographs of Will as a child.
Sheff conceived the album as a tribute to the spirit of pre-adolescence, meant to evoke the nostalgic feeling of, in his words "an action figure you found in the woods."  The map is designed to look like one drawn from a child's vision, and the printed version has a legend with numbers correlating specific places to each song on the album.
The pre-order is available in three bundles: 'The Silver Gymnasium' pre-order with a CD, cassette, or double LP, the 'Silver Gymnasium' t-shirt combo, featuring a t-shirt, a CD, cassette, or double LP, and 'The Silver Gymnasium' baseball t-short combo, featuring a CD, cassette, or double LP.
For a limited time all orders receive a free bonus disc featuring two non-album tracks.