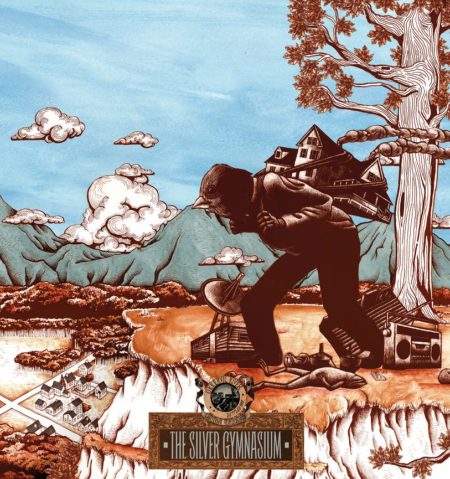 Okkervil River Reveal First Song from New Album "The Silver Gymnasium"
We're excited to announce Okkervil River as the newest addition to the ATO family!  On September 3, Okkervil River will release their new album on ATO Records.  The album's name, revealed letter-by-letter on OkkervilRiver.com, was announced today as The Silver Gymnasium.
This morning, Okkervil River revealed "It Was My Season", the first song from The Silver Gymnasium, and more details about the new album produced by John Agnello (Kurt Vile, Dinosaur Jr., John Mellencamp, Cyndi Lauper). Will Sheff announced via Twitter: The Silver Gymnasium takes place in 1986 in a small town in New Hampshire  and the new lyric video takes listeners there.

On OkkervilRiver.com, Will Sheff explains the video was filmed in the Town Hall of Plainfield, NH – near where Sheff grew up – on a stage set painted by renowned American artist Maxfield Parrish in 1916. Depicting a classic New England woodland scene, Parrish designed the set to interact with a multi-part light show to simulate dawn, early morning, full afternoon sun, and dusk. In this video, Plainfield's long-serving Town Librarian Nancy Norwalk operates the lightshow to the accompaniment of "It Was My Season."
Sheff describes the inspiration for choosing this location:
"I remember nights as a kid where we'd go to the Town Hall and watch guys from the town get up and play little rock and roll sets in front of this beautiful three-dimensional Maxfield Parrish backdrop while ladies would sell cans of Coke and 7-Up through the concession window. As time passed in my life, the backdrop seemed less real to me and I wanted to go back to film it to see if it was really there and was as cool as I remember it. It's even cooler now thanks to the great work of Nancy Norwalk and a group of Plainfield preservationists who cleaned and restored it a decade or so ago – the backdrop is still lit by a custom lighting rig special-ordered from New York City in 1916, though the Town Hall itself is over a hundred years older than that. For the first song from the record I wanted Nancy to give everybody out there in internetland a chance to see her run the beautiful times-of-day lightshow by hand to the accompaniment of the music."
Okkervil River's first tour dates of 2013 kick off with a performance at Monterey's First City Festival in August and include shows at NYC's Terminal on September 26 and LA's The Wiltern on October 20. Tickets for all new tour dates go on pre-sale June 12, and a general sale starts June 14.
More details on The Silver Gymnasium will be revealed soon.
OKKERVIL RIVER TOUR DATES:
8/24-25 – Monterey, CA @ First City Festival
9/7 – Boston, MA @ Boston Calling
9/19 – Mobile, AL @ Alabama Music Box
9/20 – Tallahassee, FL @ Club Downunder
9/21 – Atlanta, GA @ Variety Playhouse
9/23-24 – Washington, DC @ 9:30 Club
9/26 – New York, NY @ Terminal 5 (w/ Pickwick and Black Joe Lewis & the Honeybears)
9/27 – Ithaca, NY @ The Haunt
9/28 – Toronto, ON @ Phoenix Concert Theatre
9/29 – Cleveland, OH @ Beachland Ballroom
10/1 – Nashville, TN @ Mercy Lounge
10/2 – Little Rock, AR @ Revolution
10/4-13 – Austin, TX @ Austin City Limits Festival
10/18 – El Paso, TX @ Tricky Falls
10/19 – Phoenix, AZ @ The Crescent Ballroom
10/20 – Los Angeles, CA @ The Wiltern
10/24 – Portland, OR @ Wonder Ballroom
10/25 – Seattle, WA @ The Showbox
10/26 – Vancouver, BC @ Rickshaw Theatre
11/1 – Minneapolis, MN @ First Avenue
11/2 – Chicago, IL @ Metro
Photo by Ben Sklar