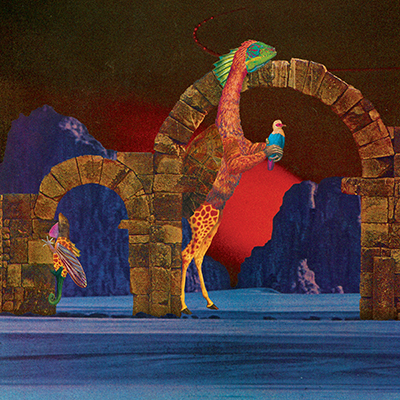 2018
That Santa Fe Channel
This Town's A Drag
Selfish Loner
Talk To Me
I'm The One Who Needs You Tonight
Frozen Rose
Santa Fe
Standin' On The Porch
Your Town
Step-Back Red
East Nashville's Cordovas have released their ATO Records debut That Santa Fe Channel in stores. Produced by the Milk Carton Kids Kenneth Pattengale, Billboard says "Cordovas and That Santa Fe Channel are Americana through and through, with a clear-cut influence from traditional country and the Grateful Dead along with rich melodies and tight harmonies." The band celebrated the release of the album with an in-store at Grimey's in Nashville which was broadscast live on Lightning 100. The band head back out on the road next week, and will showcase at AmericanaFest on September 15th at the High Watt.
Prior to their current U.S. summer tour, Cordovas were out on a five-week European tour. In London, the band stopped by the famed Toe Rag Studios (where the White Stripes recorded Elephant), and taped a session. You can watch their pulsating cover of the Grateful Dead's "Truckin'" here and That Santa Fe Channel lead single "This Town's A Drag" here.
"This Town's A Drag" has already begun to get early adds at radio, including at Lightning 100 (Nashville, TN), WXPN (Philadelphia, PA), WUMB (Boston, MA) and WYEP (Pittsburgh, PA). After highlighting the song in their "New Music Friday" playlist week of release, Spotify has added "This Town's A Drag" to their "The Pulse of Americana" playlist as well.
Years before Cordovas' formation, bandleader Joe Firstman traveled the country as a solo musician. Raised in North Carolina, he moved to Hollywood as a determined 20 year-old, signing a major-label deal with Atlantic Records. When a dizzying blur of acclaimed shows — including opening dates for Sheryl Crow and Willie Nelson — weren't enough to satisfy the expectations of a big-budget record label, Firstman lost his contract and took a new job as music director on Last Call with Carson Daly. It was good work, with Firstman performing nightly alongside first-rate musicians like Thundercat and Kamasi Washington.
Cordovas are: bassist/vocalist Joe Firstman, drummer Graham Spillman, keyboardist Sevans Henderson, guitarist/vocalist Lucca Soria and guitarist/vocalist Toby Weaver.