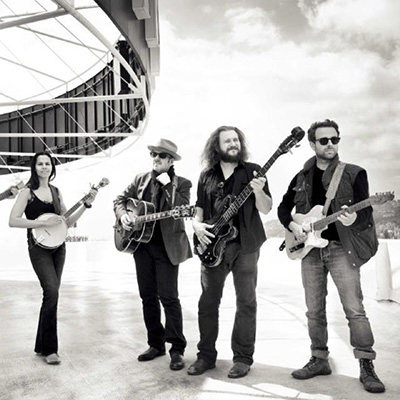 Watch/Listen to new Bob Dylan project "The New Basement Tapes" feat. Jim James, Dawes
Get the album: iTunes | Amazon | Official Store
My Morning Jacket on iTunes or ATO Store | Dawes on iTunes or ATO Store
A collective of musicians, including My Morning Jacket's Jim James and Dawes' Taylor Goldsmith, has banded together under the direction of T-Bone Burnett as The New Basement Tapes to write and record music for recently unearthed Bob Dylan lyrics from the mid-1960s. This legendary collaboration marks Jim James' first project since his 2013 solo album Regions of Light and Sound of God. Dawes' album Nothing Is Wrong was released on ATO Records in 2011. 
The process of writing and recording the resulting album is the subject of a new Showtime documentary, "Lost Songs: The Basement Tapes Continued". With Dylan's blessing, The New Basement Tapes – a "supergroup" composed of James and Goldsmith in addition to Elvis Costello, Rhiannon Giddens, and Marcus Mumford – created compositions for lyrics unseen and unheard until now. Says Burnett, "What transpired during those two weeks was amazing for all of us. There was a deep well of generosity and support in the studio at all times, which reflected the tremendous trust and generosity shown by Bob in sharing these lyrics with us in the first place."
Watch the trailer for the Showtime documentary below, and check out the song "Down On The Bottom" featuring vocals by Jim James.
The dissertation is the pinnacle of academic study. It's also the hardest part of academia as you have to gather sources to support your point, make a draft, draft it repeatedly, and spend hours checking through it. And you can be penalised for anything from incorrect formatting to a simple misplaced comma.