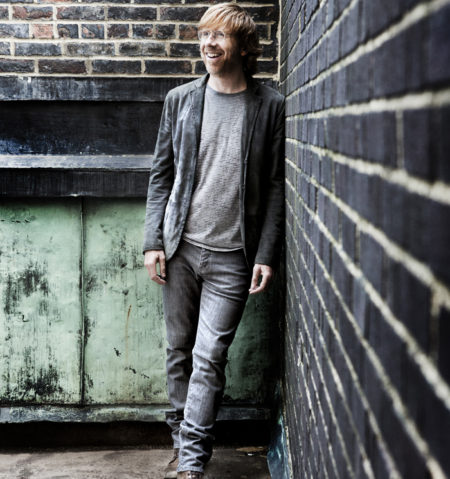 Trey Hitting the Road in January 2013
After playing four sold-out, year-end shows with Phish at New York City's Madison Square Garden, Trey Anastasio will embark on a tour of intimate venues with Trey Anastasio Band (TAB), spotlighting material from his new solo album, Traveler. The run will kick off on January 18, 2013 with a show at Danforth Music Hall in Toronto, ON and include a night at the Wellmont Theatre in Montclair, NY (1/25).
Tickets for all shows will be available through a real time presale beginning this Friday, December 7, at http://treytickets.rlc.net. Tickets will go on sale to the general public on December 14 and 15. See below for itinerary or visit www.trey.com for further details. Fans holding tickets to Anastasio's October 28 show at the Capitol Theatre in Port Chester, NY, which was postponed due to Hurricane Sandy, may use them at the January 23 show at the venue. Those who cannot attend the rescheduled date may seek refunds at the point of purchase.
Trey is also slated to perform at the Summer Camp Music Festival in Chillicothe, IL, which will take place May 24-26. The vocalist/guitarist/composer will be joined on tour by the current Trey Anastasio Band lineup, which includes Cyro Baptista, James Casey, Natalie Cressman, Jennifer Hartswick, Russ Lawton, Tony Markellis and Ray Paczkowski. You can view the band's recent performance on "Late Night with Jimmy Fallon" at http://www.rollingstone.com/movies/videos/trey-anastasio-offers-optimistic-cover-on-fallon-20121031.
Traveler (Rubber Jungle Records / ATO Records) was coproduced by Anastasio and Peter Katis (The National, Interpol, Jónsi). In addition to TAB, it features such guests as Mates of State's Kori Gardner, The National's Bryan Devendorf and Matt Berninger, Icelandic percussionist Samuli Kosminen, Rob Moose (Bon Iver, Antony and the Johnsons), Thomas Bartlett (Rufus Wainwright, David Byrne) and theremin virtuoso Rob Schwimmer.  The official video for "Valentine," from Traveler, was directed and animated by Liam Harrison (Ben Harper, David Guetta and Rihanna). The clip can be seen at http://www.youtube.com/watch?v=3B9PWnxvuIs.
TREY ANASTASIO BAND – UPCOMING 2013 TOUR DATES
1/18 – Toronto, ONT  @ Danforth Music Hall
1/19 – Syracuse, NY @ Landmark Theatre
1/20 – Portland, ME @ State Theatre
1/23 – Port Chester, NY @ Capitol Theatre
1/24 – Port Chester, NY @ Capitol Theatre
1/25 – Montclair, NJ  @ Wellmont Theatre
1/26 – Albany, NY  @ Palace Theatre
5/24-26 – Chillicothe, IL  @ Summer Camp Music Festival