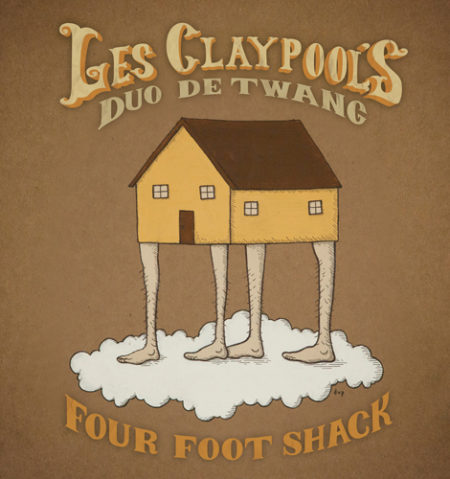 Stream Les Claypool's New Album "Four Foot Shack"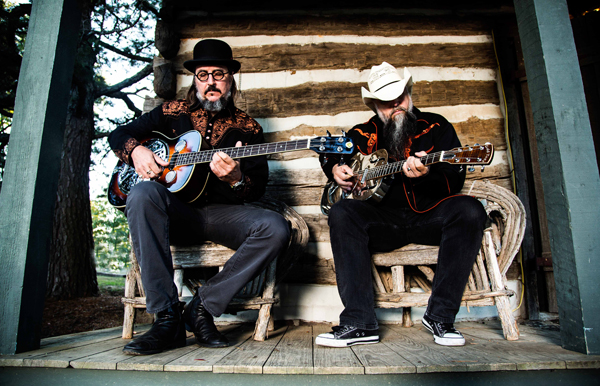 Unlike Les Claypool's work with Primus, his new project with old buddy Brian Kehoe, Duo de Twang, focuses more on the Americana/rootsy side of things – as is heard throughout the band's debut recording Four Foot Shack, to be released via ATO Records on February 4th.
"This record represents what I personally listen to these days," Claypool told Rolling Stone. "Guys like Johnny Horton, Jerry Reed and Vernon Dalhart are the soundscape of my world as I'm boiling up crab in the backyard or working on my old Chryslers, so the notion of 'twangifying' my tunes seemed like a damn good idea." As evidenced by DDT's live shows and debut, Les and Bryan mostly mix traditional tunes, popular covers, and readings of Primus classics (all of which are usually barely recognizable when compared to the original versions).
Four Foot Shack Track List
Four Foot Shack  (Les Claypool)
Wynona's Big Brown Beaver  (Primus)
Amos Moses (Jerry Reed)
Red State Girl  (Les Claypool)
The Bridge Came Tumblin' Down  (Stompin' Tom Connors)
Boonville Stomp (Les Claypool)
Stayin' Alive (Bee Gees)
Rumble of the Diesel  (Les Claypool)
Pipe Line (The Chantays)
Buzzards of Greenhill (Les Claypool's Fearless Flying Frog Brigade)
Hendershot (Les Claypool's Fearless Flying Frog Brigade)
Man in the Box (Alice in Chains)
D's Diner (Les Claypool's Fearless Flying Frog Brigade)
Battle of New Orleans (Johnny Horton)
Jerry Was a Race Car Driver  (Primus)
Tour Dates
2/26 – New York, NY – The Heath @ McKittrick
2/27 – New York, NY – The Heath @ McKittrick – SOLD OUT
2/28 – Woodstock, NY – Bearsville Theater
3/1 – Cambridge, MA – The Sinclair
3/3 – Charlottesville, VA – Jefferson Theater
3/4 – Millvale, PA – Mr. Smalls Theatre
3/6 – Kent, OH – The Kent Stage
3/7 – Detroit, MI – Majestic Theatre
3/8 – Indianpolis, IN – The Vogue
3/9 – St. Louis, MO – Plush
3/12-3/14 – Austin, TX – SXSW
3/11 – Fayettesville, AR – George's Majestic Lounge
3/15 – New Orleans, LA – Howlin Wolf