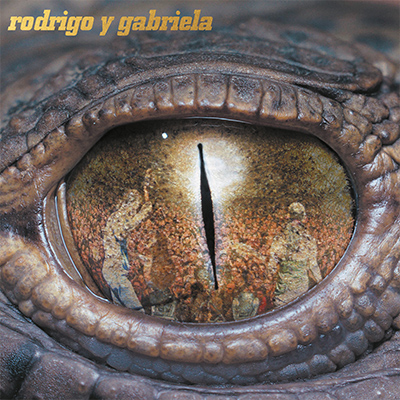 Rodrigo y Gabriela announce 10-year Anniversary Reissue of Self-Titled Breakthrough Album
"Rodrigo y Gabriela" returns with a new re-master and previously unreleased live album and DVD to be released March 31st. Watch and share "Satori (Live at the Olympia Theatre" via Consequence of Sound, and pre-order the deluxe album HERE.
Mexico City's Rodrigo y Gabriela originally released their self-titled breakthrough album in 2006 and are now excited to announce a 10year anniversary deluxe edition for 2017 that will be released on March 31st via ATO Records. The deluxe edition will include a 2-LP set including both a re-mastered version of the original album and a 2006 performance, live from Olympia Theatre in Dublin.
Affectionately known to fans as "the Crocodile album", the original record has sold nearly one million copies worldwide and the global success of the album, together with endless touring, established Rod & Gab as one of the most popular acoustic instrumental artists in the world.
They made worldwide TV appearances on David Letterman, Jools Holland and Austin City Limits among others, and have sold out tours of America, UK, France and Japan, including festival appearances at Bonnaroo and Glastonbury and multiple nights at the Royal Albert Hall, Hammersmith Apollo, Le Zenith (France), Red Rocks Amphitheatre, Radio City Music Hall (NYC) and the Hollywood Bowl.
 "We are busy at work on our new record, but looking back at this album, it's good to be reminded of how far we've come in ten years," said Rodrigo. "We had some crazy times in Ireland, and made many great friends there," added Gabriela. "The fans are so passionate about music, this is a thank you to them and our time in Dublin."
Rodrigo y Gabriela was produced by John Leckie (My Morning Jacket, Radiohead, The Stone Roses) and mastered by Robyn Robins, who also did the re-master. The CD format will be a two CD + one DVD set including the re-mastered album, the live set and a concert film of the live set. The vinyl version will be a double album on 180-heavyweight vinyl. Pre-order it HERE.