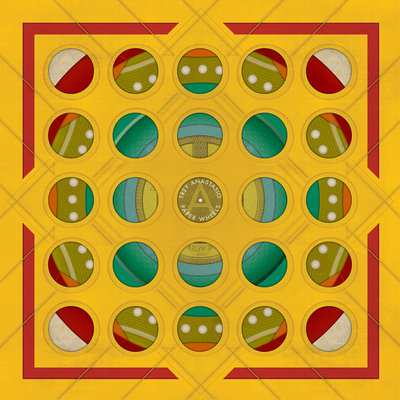 New Trey Anastasio Album "Paper Wheels" Out October 30 – On Tour Now
Phish frontman Trey Anastasio has announced his newest album, Paper Towns, to be released October 30! Preorder it now at the official store, where you can order the deluxe limited edition that includes two 180-gram splatter vinyl LPs (45 RPM) and a die-cut gatefold package with six unique sleeves. Only 4,000 of these special packages will be manufactured.
Trey Anastasio Band will celebrate the release of PAPER WHEELS with a headline tour kicking off on October 16th. Check out tour dates and get tickets at treytickets.shop.ticketstoday.com. Tickets for all shows will be available through a real-time presale beginning Thursday, August 27th at noon eastern and ending Wednesday, September 2nd at 5pm eastern at treytickets.shop.ticketstoday.com.  Tickets will go on sale to the general public beginning Thursday, September 3rd.
Produced by Anastasio and longtime collaborator Bryce Goggin, PAPER WHEELS was recorded last year at The Barn, the Phish founding guitarist's Vermont farmhouse-turned-rehearsal space/recording studio. Anastasio and the members of Trey Anastasio Band (TAB) developed the material on stage while touring and at soundcheck on the tour leading up to the sessions, allowing them to track the album in just under a week. Taking a cue from the energetic immediacy of classic Stax Studio recording sessions, TAB worked fast and loose, playing together live in The Barn and wrapping up tracks after one or two takes. Written and co-written by Anastasio alongside frequent lyric partners Tom Marshall and Steve "The Dude of Life" Pollak, songs like the funk-driven "Bounce" and the elegiac "Invisible Knife" (written solely by Anastasio) are among the legendarily diverse artist's most infectious and inventive, alive with creative vigor, robust musicianship, and true soul power (see the complete tracklisting below).
PAPER WHEELS features the classic TAB line up of drummer Russ Lawton, bassist Tony Markellis, and keyboardist Ray Paczkowski, augmented by a full horn section (including trombonist/vocalist Natalie Cressman, multi-instrumentalist James Casey, and longtime TAB trumpeter/vocalist Jennifer Hartswick). The album was mixed by 8x GRAMMY® Award-winning sound engineer Elliot Scheiner (Van Morrison, Steely Dan, Derek & The Dominos).
Anastasio's 10th solo album and follow-up to 2012's acclaimed TRAVELER, PAPER WHEELS has been heralded in recent months by a series of new song premieres launched via his website featuring cover art shrouded in code, showcasing such tracks as "Bounce," "Speak To Me," and "Never." "Bounce" and "Never" were both originally featured on a limited edition 7″ single, released exclusively for Record Store Day 2015.