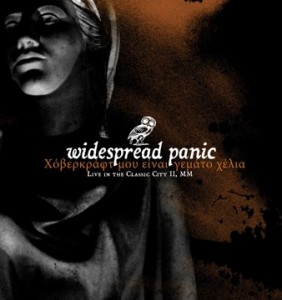 Widespread Panic: Live in the Classic City II Available for Pre-order
Following the release of their acclaimed 11th studio album Dirty Side Down (career high Billboard chart debut), Widespread Panic and ATO Records will release the two-disc/three-vinyl set Live In The Classic City II on September 28th, 2010 marks the ten-year anniversary of this monumental three-night run that took place on April 1-3, 2000 at the Classic Center Theater in Athens, Georgia. These recordings are also significant because they mark the first time Widespread Panic asked their fans, who are regularly permitted to record and circulate live performances, to refrain from recording these particular shows. Live In The Classic City II will mark the first time that these performances have been made available, and even heard if you weren't there.
Live In The Classic City II includes special guests Mike Mills (R.E.M.), percussionist Arvin Scott, producer John Keane, guitarist Eric Carter and vocalist Daniel Hutchens (Blood Kin) and vocalist Anne Richmond Boston (Swimming Pool Q's). Chosen from the same set of dates, Live In The Classic City I was released in 2002 and went on to sell over 100,000 copies. The collection featured special guests such as Bill Berry (R.E.M.), Chuck Leavell (Rolling Stones), Randall Bramblett (Traffic, Steve Winwood), Col. Bruce Hampton, and Derek Trucks (Allman Brothers).
WSP On Tour Through October
2010-09-28 Tallahassee Leon County Civic Tallahassee, FL
2010-09-30 The Fillmore Miami Beach Miami Beach, FL
2010-10-01 St. Augustine Ampitheatre St. Augustine, FL
2010-10-04 Ryman Auditorium Nashville, TN
2010-10-05 Ryman Auditorium Nashville, TN
2010-10-06 Ryman Auditorium Nashville, TN
2010-10-08 Midland Theatre Kansas City, MO
2010-10-09 The Riverside Theater Milwaukee, WI
2010-10-10 The Riverside Theater Milwaukee, WI
2010-10-13 The Rail Event Center Salt Lake City, UT
2010-10-15 Fox Theater Oakland Oakland, CA
2010-10-16 Fox Theater Oakland Oakland, CA
2010-10-17 Fox Theater Oakland Oakland, CA
2010-10-19 Grand Sierra Theater Reno, NV
2010-10-20 Grand Sierra Theater Reno , NV
2010-10-22 Greek Theater LA Los Angeles, CA
2010-10-23 The Joint at Hard Rock Las Vegas, NV
2010-10-24 Open Sky Theater @ Harrahs Valley Center, CA
2010-10-27 Verizon Theatre Grand Prairie, TX
2010-10-29 Kiefer Uno Lakefront Arena New Orleans, LA
2010-10-30 Kiefer Uno Lakefront Arena New Orleans, LA
2010-10-31 Kiefer Uno Lakefront Arena New Orleans, LA
2010-10-02 Patriot's Point Charleston, SC