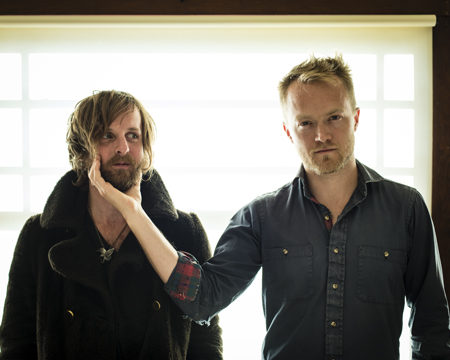 TWO GALLANTS ANNOUNCE 2013 WEST COAST TOUR DATES
Following their lengthy fall North American tour – which saw the band travel throughout most of the US and eastern Canada – Two Gallants have announced two weeks of headlining shows in the Northwest and California this January and early February. The duo, who are currently on tour in mainland Europe following a 12-date UK run, will launch the tour on January 16th at The Shakedown in Bellingham, WA and wrap up on February 2nd with a hometown show at The Fillmore in San Francisco, CA (with Akron/Family as support). This will be Two Gallants' first headlining trip through these markets following the release of their fourth (and first in five years) album The Bloom and the Blight, released September 4th.. Tickets will go on sale for all dates, save San Francisco, this Friday, November 16th; San Francisco will be on sale Sunday, November 18th.
Two Gallants are also confirmed to support Deer Tick on a pair of New Year's Eve shows, on December 30th at Fete in Providence, RI and on the 31st at The Sinclair in Cambridge, MA. They'll head to Australia in February for two co-headlining shows with Deer Tick and a stop at the Perth Festival as well.



The Bloom and the Blight – which has been garnering strong coverage from press including Alternative Press, American Songwriter, Filter Good Music Guide, Ghettoblaster, The New York Daily News, NME, Relix, RollingStone.com, The SanFrancisco Chronicle, Uncut and Under The Radar, among others – is the work of a band that has matured and redefined itself, and the album is imbued with a palpable sense of personal catharsis. The songs, like single "My Love Won't Wait" – watch Vice Cooler (Feistodon, Peaches)-directed, SPIN-premiered video here – have a dark side and a dynamic sonic heft, yet a sense of salvation and resolve courses throughout: an urgent, emotional poignancy stemming in part from singer Adam Stephens' recovery from a serious van accident in 2010. Produced by John Congleton (The Walkmen, Explosions In The Sky, St. Vincent) at Berkeley's legendary Fantasy Studios and in San Francisco's Tiny Telephone studio, the album also moves away from Two Gallants' more folk and blues-based past, representing the duo's ferocious live show and their past steeped in punk and grunge.
Europe 2012 Tour
NOV. 13 AARHUS, DENMARK VOXHALL
NOV. 15 ENSCHEDE, HOLLAND CROSSING BORDER FESTIVAL
NOV. 16 THE HAGUE, HOLLAND CROSSING BORDER FESTIVAL
NOV. 17 WEISSENHAUSER STRAND, GER. ROLLING STONE WEEKENDER
NOV. 19 KOLN, GERMANY STOLLWERCK
NOV. 20 LEIPZIG, GERMANY CONNE ISLAND
NOV. 22 BERLIN, GERMANY POSTBANHOF
NOV. 23 MUNICH, GERMANY THEATERFABRIK
NOV. 24 SCHORNDORF, GERMANY MANUFAKTUR
NOV. 25 FRANKFURT, GERMANY BATSCHKAPP
NOV. 26 MUNSTER, GERMANY SPUTNIKHALLE
NOV. 27 BRUSSELS, BELGIUM BOTANIQUE – ORANGERIE
NOV. 29 BARCELONA, SPAIN MUSIC HALL
NOV. 30 MADRID, SPAIN CARACOL
DEC. 1 BILBAO, SPAIN AZKENA
DEC. 3 FRIBOURG, SWITZERLAND FRI-SON
DEC. 4 BASEL, SWITZERLAND KASERNE
DEC. 5 GRAZ, AUSTRIA PPC
DEC. 6 SALZBURG, AUSTRIA ROCKHOUSE
DEC. 7 DORNBIRN, AUSTRIA CONRAD SOHM
DEC. 8 LINZ, AUSTRIA POSTHOF
DEC. 9 VIENNA, AUSTRIA FLEX
DEC. 11 PARIS, FRANCE NOUVEAU CASINO
US New Year's Eve Shows
DEC. 30 PROVIDENCE, RI FETE*
DEC. 31 CAMBRIDGE, MA THE SINCLAIR*
North American 2013 Tour
JAN. 16 BELLINGHAM, WA THE SHAKEDOWN
JAN. 17 VANCOUVER, BC THE BILTMORE CABARET
JAN. 18 SEATTLE, WA BARBOZA
JAN. 19 PORTLAND, OR DOUG FIR LOUNGE
JAN. 20 EUGENE, OR COZMIC
JAN. 25 SAN LUIS OBISPO, CA SLO BREWING CO.
JAN. 26 MERCED, CA THE PARTISAN
JAN. 30 SANTA ANA, CA CONSTELLATION ROOM
JAN. 31 LOS ANGELES, CA BOOTLEG
FEB. 2 SAN FRANCISCO, CA THE FILLMORE**
Australia 2013 Tour
FEB. 8 SYDNEY, AUSTRALIA THE ANNANDALE HOTEL#
FEB. 9 MELBOURNE, AUSTRALIA NORTHCOTE SOCIAL CLUB#
FEB. 12 PERTH, AUSTRALIA PERTH FESTIVAL
* supporting Deer Tick
** Akron/Family support
# co-headline with Deer Tick