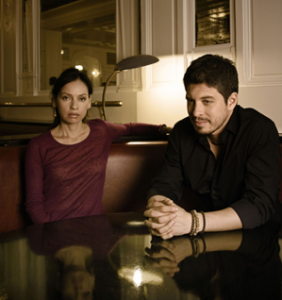 Rodrigo y Gabriela Rock the White House
Rodrigo y Gabriela wrapped up their U.S. tour on Wednesday night with an intimate performance at the White House in front of President Obama, Mrs. Obama, and about 200 guests.  The duo shared the stage with Obama favorite, Beyonce. The black-tie event was a stark contrast to their recent and rowdy sold-out performance at Radio City Music Hall.
Honorary guests at the Obamas' second state dinner at the White House were Mexican President Felipe Hinojosa and First Lady Margarita Zavala.  The concert coincided with the news that Rodrigo y Gabriela have reached one million total albums sold worldwide.  The duo plans to take some time off before hitting some festivals in late June.
US Tour
2010-08-13 Rodrigo y Gabriela Marymoor Amphitheater Redmond, WA US
2010-08-14 Rodrigo y Gabriela Edgefield Troutdale, OR US
2010-08-16 Rodrigo y Gabriela Humphrey's Concerts San Diego, CA US
2010-08-18 Rodrigo y Gabriela Greek Theatre Los Angeles, CA US
2010-08-20 Rodrigo y Gabriela Red Rocks Amphitheatre Morrison, CO US
2010-08-21 Rodrigo y Gabriela Greek Theatre Berkeley, CA US
2010-08-24 Rodrigo y Gabriela Filence Center at Wolf Trap Vienna, VA US
2010-08-26 Rodrigo y Gabriela Opera House Boston, MA US
2010-08-28 Rodrigo y Gabriela Ravinia Festival Highland Park, IL US