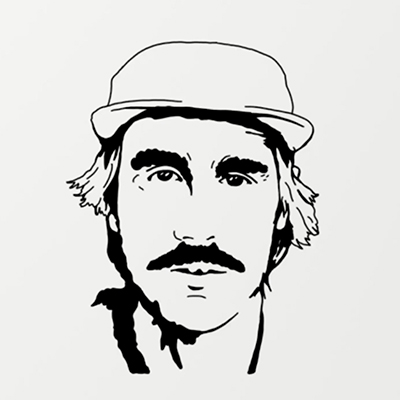 Rayland Baxter Shares "Strange American Dream"
"'Strange American Dream' captures Rayland's mindset of the moment; somewhere between a childlike sense of wonder and disbelief at the good and evil he saw as he watched the news cycle unfold around him…a piano driven ear worm of a song that sounds like a distant cousin to The Beatles' 'Lady Madonna.'" – NPR Music
Rayland Baxter has unveiled the second song from his forthcoming 'Wide Awake'.  "Strange American Dream" premieres today on NPR Music/World Café.  Rayland made this album during a self-imposed isolation quest.  He moved into an abandoned rubber band factory turned studio for 3 months, with nothing but a mattress on the floor and a couple of instruments.  He wrote for 15 hours a day, the occasional waft of news from a TV down the hall seeping through the door of his room.
Says Rayland, "'Strange American Dream' is a song about the strange…American…dream. i was Living in the middLe of a cornfieLd in Kentucky when i wrote it…the tv in the kitchen was stuck on the news channeL for three months…i couLdnt heLp but eavesdrop…and take notes." 
'Wide Awake' has already earned praise for its first song "Casanova," which GQ named as one of its Songs of the Summer 2018. It's also drawn comparisons to the Beatles (Rolling Stone Country) and the Kinks (Nashville Scene), and is currently #24 on the national Triple A radio chart.
Listen to Casanova here: https://www.youtube.com/watch?v=e_jbTR-1Sqc
'Wide Awake' was produced by Butch Walker (Weezer, Pink, Pete Yorn) and features Walker himself on bass, Cage the Elephant's Nick Bockrath on guitar, Dr. Dog's Erick Slick on drums, and piano wizard Aaron Embry (Elliott Smith, Brian Eno) on keys. Rayland's father Bucky Baxter contributes pedal steel, as does original Nashville Cat Lloyd Green.
On July 12, Rayland heads out on a national headlining tour including an album release show on July 13 at Bowery Ballroom in New York City. He is also opening some of the shows on Shakey Graves' tour this summer and performing with him at Red Rocks in August (Rayland also co-wrote some of the songs on Shakey's new record).  Full dates below.
Pre-order 'Wide Awake' on all platforms here: http://wideawake.raylandbaxter.com/
TOUR DATES: 
12-Jul- Washington, DC – Union Stage
13-Jul- New York, NY – Bowery Ballroom
14-Jul- Philadelphia, PA – World Café Live
15-Jul- Richmond, VA  – Broadberry
18-Jul- Nashville, TN – Basement East
20-Jul- Birmingham, AL – Saturn
21-Jul- Atlanta, GA – Terminal West
24-Jul- Toronto, ON – Adelaide Hall
25-Jul- Cleveland, OH – Beachland Tavern
26-Jul- Detroit, MI – Otus Supply
27-Jul- Grand Rapids, MI  –  The Stache
28-Jul- Chicago, IL –  Lincoln Hall
1-Aug- Indianapolis, IN – Hifi
2-Aug- Davenport, IA – Triple Crown Whiskey Bar
3-Aug- St. Louis, MO – Delmar Hall
4-Aug- Lawrence, KS – Bottleneck
5-Aug- Omaha, NE – Slowdown
9-Aug- Denver, CO – Bluebird
24-Aug- Salt Lake City, UT – Red Butte Garden w/ Shakey Graves
25-Aug- Missoula, MT – Big Sky Amphitheatre w/ Shakey Graves
26-Aug- Spokane, WA – Knitting Factory w/ Shakey Graves
27-Aug- Spokane, WA – Knitting Factory w/ Shakey Graves
28-Aug- Boise, ID – Knitting Factory  w/ Shakey Graves
30-Aug- Morrison, CO – Red Rocks w/ Shakey Graves
5-Sep- Vancouver, BC – Biltmore Cabaret
6-Sep- Bellingham, WA – Wild Buffalo
7-Sep- Seattle, WA – Tractor Tavern
9-Sep- Portland, OR – Doug Fir
14-Sep- San Diego, CA – Belly Up
15-Sep- Los Angeles, CA – Moroccan Lounge
16-Sep- Templeton, CA – Whale Rock Festival
20-Sep- Crystal Bay, NV – Red Room at Crystal Bay
21-Sep- Santa Cruz, CA – Catalyst
23-Sep- Sonoma, CA – Harvest Music Festival
28-Sep- Roseland, VA – Devil's Backbone Hoopla
30-Sep- Asbury Park, NJ – Sea Hear Now Festival