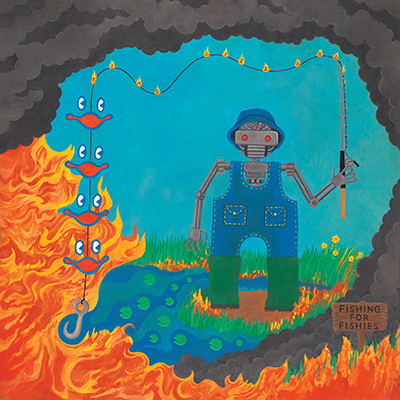 King Gizzard's 'Fishing for Fishies' Out Now – Signings in LA and NYC
King Gizzard & The Lizard Wizard – Fishing for Fishies
The fourteenth album since their 2012 debut – and their first following the release of five vastly different albums in 2017 – Fishing for Fishies is a blues-infused blast of sonic boogie that struts and shimmies through several moods and terrains. From the soft shuffle Outback country of the opening title track through the sunny easy listening of 'The Bird Song' (think the lysergically-soaked Laurel Canyon circa 1973) and on through the party funk of 'Plastic Boogie' (which somehow summons the spirit of Stevie Wonder's Innervisions) the road-trucking, Doors-like highway rock of 'The Cruel Millennial' and 'Real's Not Real' – it's a dizzying, dazzling display which addresses a number of pertinent environmental issues along the way.
"We tried to make a blues record," says frontman Stu Mackenzie. "A blues-boogie-shuffle-kinda-thing, but the songs kept fighting it – or maybe it was us fighting them. Ultimately though we let the songs guide us this time; we let them have their own personalities and forge their own path. Paths of light, paths of darkness. This is a collection of songs that went on wild journeys of transformation."
Stu and Eric from King Gizzard will mark the release of the album with events in both LA & NYC.  Click the flyers below for full details.