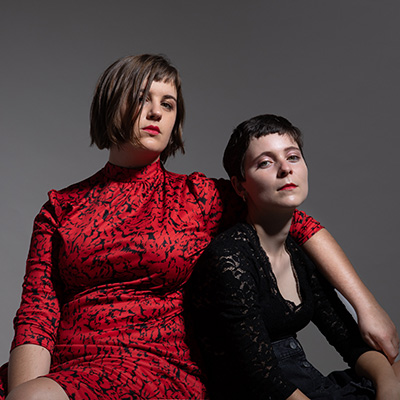 Oh Pep! Release Music Video For New Single "Hurt Nobody"
Melbourne, Australia's Oh Pep! are back with their sophomore effort, I Wasn't Only Thinking About You…, out October 26th. The duo have shared the second single and accompanying video – "Hurt Nobody."
20 year old director Emily Dynes led an all female team in the production of the video saying, "'Hurt Nobody' touched me from the very first time I heard it. The song encapsulates a very guttural, raw and female type of pain, so it felt like natural fit to bring together a young female led team of creatives for the project. It was an absolute privilege to work on such a beautiful song for a band I deeply admire, and a complete joy to spend three days shooting and dancing across the mountains in the alpine region of Victoria, Australia." The video features performer Cecilia Low. The band's Liv Hally notes, "Emily and her team were so true to capturing the emotion of the song with actress Cecelia Low. As a writer of the song, it gave it a new life for me. This one has travelled far having been written in New York and then taken south to have its film clip be made in home state Victoria."
PRE-ORDER:  I Wasn't Only Thinking About You… 
Oh Pep! will be out on tour throughout North America, Australia and Europe with both headlining dates and dates supporting Gregory Alan Isakov and Middle Kids. Leg one kicks off in San Francisco on October 6th in support of Gregory Allen Isakov and includes headlining dates at World Cafe Live in Philly, U Street Music Hall in DC and Rough Trade in Brooklyn and more.
I Wasn't Only Thinking About You… marks the follow up to Oh Pep!'s critically acclaimed debut Stadium Cake. The return at once captures their spirit, their curiosity, their imminent likability. Throughout, the new LP thoughtfully explores the melody-rich expanse between indie pop and alt-folk, while coming of age and seeing the world. The duo burst first onto the scene with with a series of EP's that caught the attention of legendary artists and critics alike. NPR called them "thoughtful, deep, funny, and poetic," and appearance "Tiny Desk" netted them a dedicated and passionate audience stateside that has continued to grow. The New York Times marveled at how adept they were at "sharing a melody that's both angular and affectionate."
Since meeting at a performing arts school in Melbourne, Liv and Pep have wowed audiences with their virtuosity as instrumentalists but it's their storytelling that has won over the hearts of their fans. Being thrust into a life of touring the world after Stadium Cake only gave them a wider pool to net these tales – the people they've met and the wonder they've felt seeing the world make up the vignettes on I Wasn't Only Thinking About You…
I Wasn't Only Thinking About You… will be released digitally on CD and on vinyl and can be pre-ordered today.
Photo Credit: Ebru Yildiz
Tour Dates
*with Gregory Alan Isakov
+with Middle Kids
Oct 06 – Great American Music Hall – San Francisco, CA*
Oct 09 – Moroccan Lounge – Los Angeles, CA
Oct 18 – Emo's – Austin, TX*
Oct 19 – Granada Theatre – Dallas, TX*
Oct 20 – Truman – Kansas City, MO*
Oct 22 – World Cafe Live Upstairs, Philadelphia, PA
Oct 23 – U Street Music Hall – Washington D.C.
Oct 25 – Rough Trade – Brooklyn, NY
Oct 29 – Baby G's – Toronto, ONT
Nov 02 – Supersonic – Paris, France+
Nov 03 – Botanique – Brussels, Belgium+
Nov 04 – MTC – Cologne, Germany+
Nov 05 – Paradiso – Amsterdam, Netherlands+
Nov 07 – Molotow – Hamburg, Germany+
Nov 08 – Ideal Bar – Copenhagen, Denmark+
Nov 09 – Kantine am Berghain – Berlin, Germany+
Nov 11 – Chelsea Club – Vienna, Austria+
Nov 13 – Kranhalle – Munich, Germany+
Nov 14 – Mascotte – Zurich, Switzerland+
Nov 23 – Queenscliff Music Festival – Queenscliff, VIC, Australia
Nov 30 – Fairgrounds Festival – Berry, NSW, Australia
Dec 01 – Corner Hotel – Richmond, VIC, Australia
Dec 08 – The Old Museum – Brisbane, QLD, Australia
Dec 14 – The Wheatsheaf – Thebarton, SA, Australia
Dec 15 – Mojo's Bar – Freemantle, WA, Australia
Jan 11 – The Landsdowne, Sydney, NSW, Australia