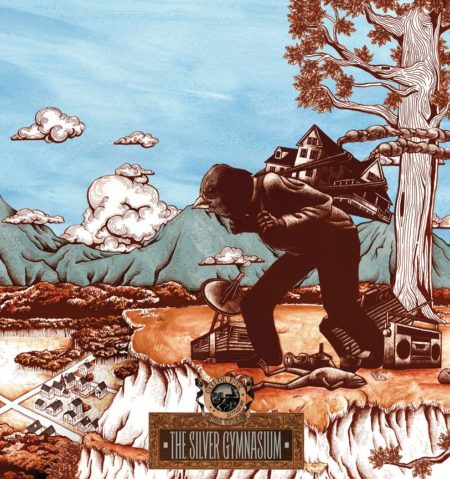 OKKERVIL RIVER'S 'THE SILVER GYMNASIUM' OUT NOW!
The Silver Gymnasium on iTunes | Amazon
It's human nature to romanticize a specific time and place in the past — a moment when everything just felt right, or opportunities were laid out like a banquet. For Okkervil River's Will Sheff, it's been impossible to let go of Meriden, N.H., circa 1986: That tiny town is where he spent his childhood (he turned 10 that summer) and where his parents taught at an area boarding school. Meriden is where Sheff's visions of youth and innocence reside, even as he's gone on to live in Austin and Brooklyn, and to tour the world. Sheff sets Okkervil River's seventh album, The Silver Gymnasium, square in the heart of his own childhood; in the specific spot that produced his most sepia-toned memories. As such, the record captures not only his own autobiographical details, but also musical cues from the era.
To complement the release of The Silver Gymnasium, Okkervil River has released an 8-bit adventure video game, an interactive map (created with NPR Music), a video documenting Sheff's high school bands, footage of him performing in his old high school gym – the inspiration for the album title – and more. Revisit all of these at Mashable: http://on.mash.to/1asKjIK
Over the weekend, the New York Times reported on a writer's trip to the small town of Meriden, NH to explore the origins of Okkervil River's 'The Silver Gymnasium' (out today) with frontman Will Sheff. The Times called the album "an aural bildungsroman," based around Sheff's small-town childhood in the mid-'80s. Read the story, and go on a Sheff-guided video tour, here: http://nyti.ms/14nk3bz.  Read the NY Times story here: http://nyti.ms/14nk3bz
Okkervil River's tour begins later this month. See full dates below.
Okkervil River Tour Dates:
9/06 – Boston, MA – Gilt City Boston @ Royale
9/07 – Boston, MA @ Boston Calling
9/19 – Mobile, AL @ Alabama Music Box
9/20 – Tallahassee, FL @ Club Downunder
9/21 – Atlanta, GA @ Variety Playhouse
9/23 – Washington, DC @ 9:30 Club
9/26 – New York, NY @ Terminal 5 (w/ Pickwick and Black Joe Lewis & the Honeybears)
9/27 – Ithaca, NY @ The Haunt
9/28 – Toronto, ON @ Phoenix Concert Theatre
9/29 – Cleveland, OH @ Beachland Ballroom
10/1 – Nashville, TN @ Mercy Lounge
10/2 – Little Rock, AR @ Revolution
10/4 & 10/11 – Austin, TX @ Austin City Limits Festival
10/18 – El Paso, TX @ Tricky Falls
10/19 – Phoenix, AZ @ The Crescent Ballroom
10/20 – Los Angeles, CA @ The Wiltern
10/22 – San Francisco, CA – The Fillmore
10/24 – Portland, OR @ Wonder Ballroom
10/25 – Seattle, WA @ The Showbox
10/26 – Vancouver, BC @ Rickshaw Theatre
10/28 – Spokane, WA @ Knitting Factory
10/29 – Bozeman, MT @ The Filling Station
10/31 – Fargo, ND @ The Aquarium
11/01 – Minneapolis, MN @ First Avenue
11/02 – Chicago, IL @ Metro
11/03 – St. Louis, MO @ Off Broadway
11/04 – Oklahoma City, OK @ ACM / UCO Performance Lab
Hi Res Photos / Bio / Links:
http://www.shorefire.com/clients/okkervilriver