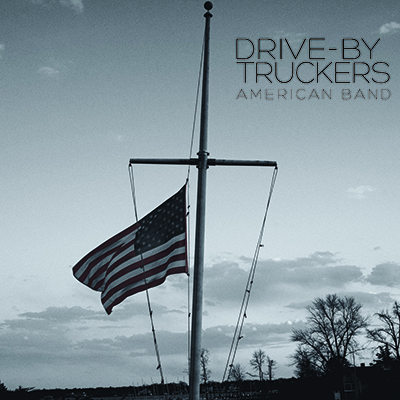 Listen to "What It Means" from Drive-By Truckers new album out 9/30 – See New Tour Dates
Listen to a new politically-charged song "What It Means" from Drive-By Truckers upcoming album American Band, in stores September 30th. A powerful and provocative work, American Band is made up of 11 new songs (split almost evenly between Mike Cooley and Patterson Hood compositions). Watch the lyric video for "What It Means" below via Rolling Stone, and instantly download "Surrender Under Protest" and "What It Means" when you pre-order the album.
Pre-order American Band: Official Store | iTunes | Amazon
Hood says of the record: 
"American Band" is a sort of rock and roll call to arms as well as a musical reset button for our band and the country we live in. Most of all, we look at it as the beginnings of some conversations that we, as a people very much need to begin having if we ever hope to break through the divisions that are threatening to tear us apart. 
Drive-By Truckers are celebrating our twentieth anniversary as a band in an election year where some people are trying to define what it is to be American. Definitions based on some outdated ideology of prejudice and fear. We are loudly proclaiming that those people don't speak for us. America is and always has been a land of immigrants and ideals. Ideals that we have often fallen short of achieving, but it's the striving that has given us whatever claims to greatness we have had. That's what America means to us and "We're an American Band'.
The band will begin touring this summer, with a headlining date at Red Rocks Ampitheater in August. Live dates below, and tickets available at the band's website.
ON TOUR
7/13 – Lowdown Hudson Music Festival – New York, NY *
7/17 – 12th Annual Targee Fest – Alta, WA *
8/19 – Belly Up – Aspen, CO
8/20 – Red Rocks Ampitheater – Morrison, CO †
8/27 – Moontower Music Festival – Lexington, KY *
9/16 – Toronto Urban Roots Festival – Toronto, ON *
9/17 – Harvest Jazz and Blues Festival – Fredericton, NB *
9/23 – Crossroads – Kansas City, MO ‡
9/24 – First Avenue – Minneapolis, MN §
9/25 – The District – Sioux Falls, SD §
9/28 – The Wilma – Missoula, MT §
9/29 – Showbox at The Market – Seattle, WA §
9/30 – Wonder Ballroom – Portland, OR §
10/1 – Wonder Ballroom – Portland, OR §
10/2 – Rickshaw Theater – Vancouver, BC §
10/5 – Ace of Spades – Sacramento, CA §
10/6 – The Fillmore – San Francisco, CA §
10/7 – The Fillmore – San Francisco, CA §
10/8 – Montbleau Resort Casino – Lake Tahoe, CA §
10/11 – Teragram Ballroom – Los Angeles, CA §
10/12 – Teragram Ballroom – Los Angeles, CA §
10/14 – Fremont Theater – San Luis Obispo, CA §
10/15 – Livewire – Scottsdale, AZ §
[if !supportLineBreakNewLine]
* – festival appearance
† – w/ Yonder Mountain String Band and special guests Preservation Hall Jazz Band
‡ – w/ Son Volt Trio
§ – w/ special guest Lydia Loveless