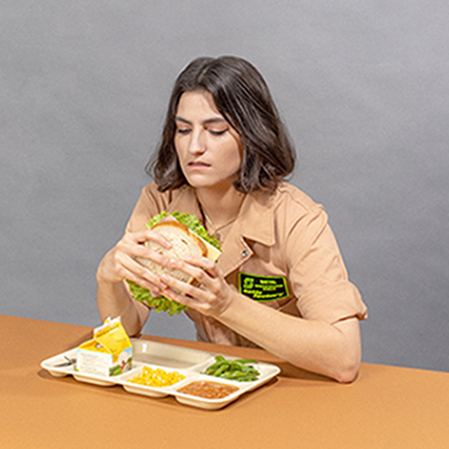 Mattiel Announces New Album Satis Factory + "Keep The Change" Video
Atlanta's Mattiel have announced details of their second album, Satis Factory, out on June 14. The news comes with a punchy new song, "Keep The Change", previously debuted during a rollicking performance for NBC's Last Call last week. The song launches today with an impressive factory filmed video. Pre-order Satis Factory and download "Keep The Change" instantly here.
Says frontwoman Mattiel Brown, "The video was co-directed by Matthew Addington and myself. I had about four weeks to call him up, plan everything, find a location that would give us permission to film, source props. It was crazy, but a lot of fun. We brought in this amazing DP, Alan Sabir, from Calgary. He freehanded a lot of the performance shots and our script was pretty loose. This gigantic cement factory outside of Atlanta gave us free reign over the entire facility for two days – it kinda felt like running around inside a video game with all the tunnels, catwalks and passageways. And they had this amazing mint-green control room that hasn't been changed since the early 60's…It was a dream."
Co-produced by Randy Michael and Jonah Swilley and recorded in their native Atlanta, Satis Factory is the band's second album. Having initially met in the Atlanta music scene in 2014, the process of recording Satis Factory was built upon the success of Swilley and Mattiel Brown's time working together on their debut album. It's a team that just works. "Jonah is a great songwriter and he'll put a structure together and send it to me through an email, and then I'll listen to it pretty much right away," Mattiel explains. "And then we'll restructure it if we need to and I'll write a melody and lyrics to it and eventually record it." Where the first record was confident, this second release is even more so. This is probably down to the chemistry between them; they seem in awe of each other. "Some of Mattiel's best lyrical writing is effortless," Jonah says. "She's thoughtful with what she wants to say as an artist, but also understands pop sensibilities."
Despite Satis Factory being recorded in exactly the same way, with exactly the same team behind their debut, the sound is noticeably different. Jonah explained that he "had a musical objective to try new sounds and ways of recording" to Mattiel's first record but still "keeping lo-fi elements" to the new one. "We started working on Mattiel's first record with a dusty, cinematic, and garage rock feel to the music," he explains. "Satis Factory has more stylistic diversity with the musical compositions and an increased level of intensity."
MATTIEL ON TOUR:
05/03/19 – Third Man Records (Blue Room) – Nashville, TN
05/04/19 – Hideout – Chicago, IL
05/05/19 – Third Man Records (Cass Corridor) – Detroit, MI
05/06/19 – The Drake Hotel – Toronto, ON
05/07/19 – Quai Des Brumes – Montreal, QB
05/08/19 – The Red Room: Cafe 939 – Boston, MA
05/10/19 – Berlin – New York, NY
05/11/19 – Union Pool – Brooklyn, NY
05/14/19 – Songbyrd – Washington, D.C.
05/17/19 – Cat's Cradle (Backroom) – Carrboro, NC
05/18/19 – The Masquerade (Hall) – Atlanta, GA
05/30/19 – Gasa Gasa – New Orleans, LA
05/31/19 – White Oak Music Hall (Upstairs) – Houston, TX
06/01/19 – Mohawk (Indoors) – Austin,TX
06/04/19 – The Echo – Los Angeles, CA
06/05/19 – Cafe Du Nord – San Francisco, CA
06/07/19 – Bunk Bar – Portland, OR
06/08/19 – Barboza –  Seattle, WA
06/09/19 – Wise Hall & Lounge – Vancouver, BC
06/12/19 – 7th Street Entry – Minneapolis, MN
06/13/19 – The Back Room (Colectivo Coffee) – Milwaukee, WI
06/14/19 – Blueberry Hill (Duck Room) – St. Louis, MO
06/15/19 – Proud Larry's – Oxford, MS
07/01/19 – Arts Centre – NORWICH
07/02/19 – Gorilla – MANCHESTER
07/03/19 – Oran Mor – EDINBURGH
07/06/19 – Astral Festival – BRISTOL
07/07/19 – The Rescue Rooms – NOTTINGHAM
07/08/19 – Brudenell Social Club – LEEDS
07/09/19 – Whelan's – DUBLIN
07/11/19 – The Haunt – BRIGHTON
07/12/19 – EaRTH – LONDON
07/15/19 – 4AD – DIKSMUIDE, BE
07/17/19 – Paradiso – AMSTERDAM
07/18/19 – Valkhof Festival – NIJMEGEN
07/21/19 – Poolbar Festival – FELDKIRCH
07/26/19 – Sala – MADRID
08/01/19 – Loco Club – VALENCIA
08/03/19 – Le Chien a Plumes – LANGRES, FRANCE