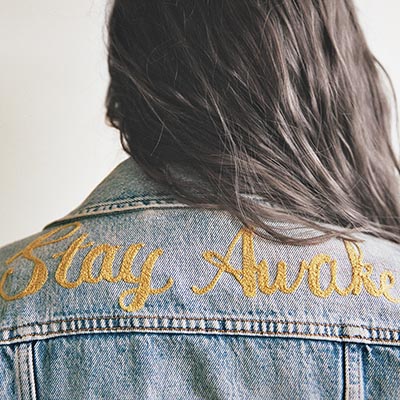 Listen to New Joseph 'Stay Awake' EP and see on tour this fall!
Joseph returns with a seven-track EP, Stay Awake, out today to stream or download at http://smarturl.it/joseph-stayawake. The collection includes three new songs – "All," which opens the set, a demo of "50, 60, 80" and the closing track, "Stay Awake" – plus reimagined versions of two older songs and stunning covers of Tears For Fears' "Everybody Wants To Rule The World" and the Rolling Stones' "Moonlight Mile." 
Natalie Schepman, who founded Joseph with her two sisters, Allison Closner and Meegan Closner, says, "Stay Awake is a small collection of songs we put together to help ourselves deal with heaviness. It's a bit of telling it like it is. It's a bit of a 'keep going.'" 
NPR Music premiered Joseph's glistening version of "Everybody Wants To Rule The World" today – listen HERE. 
"When we were recently reminded of Tears for Fears' song 'Everybody Wants to Rule The World,' it hit us how pertinent it is today even though it was written in the 80's. Today, maybe more than ever," explains Natalie, who added a few lines after the bridge that especially speak to the times we live in:
"Make the most of freedom and pleasure.
All I know is take care of each other.
An open door, a seat at the table, there's enough to go around."
"In all honesty, it feels like the house is falling down around us, but the lyric 'holding hands while the walls come tumbling down' resounds in our minds," says Natalie. "We hope that our music can be a force of togetherness when it seems like everything's trying to divide us."  
The band recorded Stay Awake at Sound Emporium in Nashville. It was produced by longtime friend Andrew Stonestreet, who co-wrote several tracks on Joseph's most recent album, I'm Alone, No You're Not.
The band's fall headline tour kicks off next week with a September 13 show at the 9:30 Club in Washington, DC. The run includes an evening at the Music Hall of Williamsburg in Brooklyn, NY (September 15) and a concert at Los Angeles' El Rey Theatre (October 13). Tickets are available at http://smarturl.it/josephtour.
Stay Awake – Track Listing
1.     All
2.     Everybody Wants to Rule The World
3.     Lifted Away 
4.     Planets
5.     50, 60, 80 (Demo)
6.     Moonlight Mile
7.     Stay Awake
Joseph – North American Tour Dates
9/13 – Washington, DC @ 9:30 Club *
9/15 – Brooklyn, NY @ Music Hall of Williamsburg *
9/16 – Boston, MA @ The Sinclair *                                                 SOLD OUT
9/17 – Burlington, VT @ Grand Point North Festival @ Waterfront Park
9/19 – Ottawa, ON @ Babylon *
9/20 – Toronto, ON @ Mod Club *
9/22 – Chicago, IL @ Thalia Hall *
9/23 – Minneapolis, MN @ First Avenue *
9/24 – Franklin, TN @ Pilgrimage Music & Cultural Festival
9/26 – Madison, WI @ Majestic Theatre #
9/27 – Indianapolis, IN @ Hi-Fi #
9/29 – Birmingham, AL @ Iron City #
9/30 – Atlanta, GA @ Terminal West #
10/1 – Charleston, SC @ Charleston Music Hall #
10/2 – Ponte Vedra, FL @ Ponte Vedra Concert Hall #
10/4 – New Orleans, LA @ Tipitina's #
10/6 – Austin, TX @ Antone's (ACL Late Night Show) #
10/7 – Austin, TX @ Austin City Limits Music Festival
10/8 – Dallas, TX @ Tree's #
10/10 – Albuquerque, NM @ KiMo Theatre #
10/12 – Phoenix, AZ @ Crescent Ballroom #
10/13 – Los Angeles, CA @ El Rey Theatre #
11/18 – Mexico City, MX @ Corona Capitol 
* Bailen opening
# Liza Anne opening