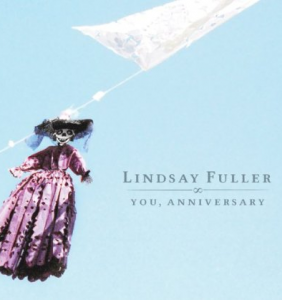 Lindsay Fuller "You, Anniversary" Out Today!
Lindsay Fuller's latest release "You, Anniversary" is being released today!  You can get the album on iTunes and Amazon.
Lindsay Fuller's haunting Southern Gothic songwriting is unlike any other in her genre.  Born in Alabama, the Seattle-based artist is the antithesis of the typical ethereal songstress.  Her storytelling has been compared to Flannery O'Connor's, while her voice to Johnny Cash, Nick Cave, Lucinda Williams and Gillian Welch – delicate and dark, "a burnished, soulful trill that sounds like the frame of a beautiful old church that's about to collapse on itself" (The Examiner).
Track Listing:
Everything I Ever Had
Circa Never
One More Song
Grey Gardens
You, Anniversary
Sound Of Regret
Libby
One Can Only Hope
Martin Lake
Coal Mine Canary
Lindsay Fuller Tour Dates:
3/27 @ The Doug Fir, Portland, OR #^
3/28 @ The Tracter Tavern, Seattle, WA #^
3/29 @ The Capital Theater Backstage, Olympia, WA #
3/31 @ The State Room, Salt Lake City, UT #
4/1 @ The Bluebird Theater, Denver, CO #
# w/ Amy Ray
^ CD Release Party