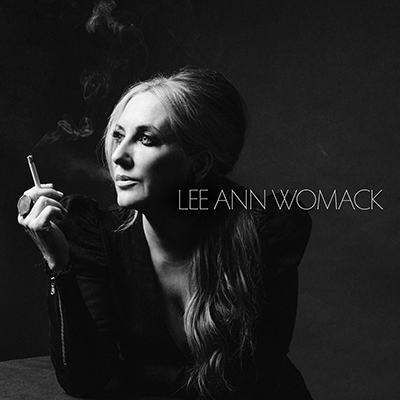 Lee Ann Womack Announces ATO Debut "The Lonely, The Lonesome & The Gone" out October 27
LEE ANN WOMACK DIGS DOWN TO HER TEXAS ROOTS ON ATO RECORDS DEBUT 'THE LONELY, THE LONESOME & THE GONE' OUT OCTOBER 27 
LISTEN TO NEW SONG "ALL THE TROUBLE" VIA NPR MUSIC
Lee Ann Womack, one of the most distinctive and decorated vocalists in modern music, will make her debut for ATO Records on October 27 with the release of 'The Lonely, The Lonesome & The Gone,' an album that mixes the country, soul, gospel and blues of her native East Texas, into an audacious, sharp-edged work of art.  Produced by Womack's husband and fellow Texan Frank Liddell (fresh off a 2017 ACM Album of the Year win for Miranda Lambert's 'The Weight of These Wings'), and featuring songs mostly co-written by Womack, 'The Lonely, The Lonesome & The Gone,' is her most personal album to date, marking the culmination of a journey that began with her 2005 CMA Album of the Year 'There's More Where That Came From' toward an authentic American music that celebrates her roots and adds to the canon.
Listen to new song "All The Trouble," co-written by Womack and her band mates Adam Wright and Waylon Payne via NPR Music here.
'The Lonely, The Lonesome & The Gone' features fourteen new songs, recorded with Womack's core band of top shelf musicians including bassist Glenn Worf, songwriters and guitarists Wright, Payne and Ethan Ballinger, and drummer Jerry Roe.  The album was mostly recorded at the legendary SugarHillStudios in Houston, TX.  Formerly known as Gold Star and open since 1941, SugarHill is one of the oldest continuously run studios in the country and home to seminal early recordings by many artists who had a formative influence on Womack, including George Jones, Willie Nelson and Lightnin' Hopkins.  Among the album's three cover songs, Womack recorded a haunting version of George Jones' "Please Take the Devil Out of Me" standing on the same gold star linoleum floor where he cut the 1959 original.
"I wanted to get out of Nashville, and tap the deep music and vibe of East Texas," says Womack.  "I wanted to make sure this record had a lot of soul in it, because real country music has soul.  I wanted to remind people of that."
'The Lonely, The Lonesome & The Gone' follows Womack's acclaimed 2014 album 'The Way I'm Livin',' which SPIN deemed "the best of her career" to date.  Highlights from that career include performances for presidents and other world leaders, duets partners ranging from George Strait to John Legend, a Grammy, five Academy of Country Music awards, and six Country Music Association awards including Female Vocalist of the Year, Album of the Year, and two Singles of the Year.
 'The Lonely, The Lonesome & The Gone' Track List: 
1. All The Trouble
2. The Lonely, The Lonesome & The Gone
3. He Called Me Baby
4. Hollywood
5. End Of The End Of The World
6. Bottom of the Barrel
7. Shine On Rainy Day
8. Mama Lost Her Smile
9. Wicked
10. Long Black Veil
11. Someone Else's Heartache
12. Sunday
13. Talking Behind Your Back
14. Take The Devil Out of Me 
Lee Ann Womack Upcoming Tour Dates:
Aug. 25 – Ford Center – Evansville, IN*
Aug. 26 – State Farm Center – Champaign, IL*
Aug. 27 – Plaza Theatre – Glasgow, KY
Sept. 8 – The Family Arena – St. Charles, MO*
Sept. 9 – U.S. Cellular Center – Cedar Rapids, IA
Sept. 10 – St. Croix Casino – Turtle Lake, WI
Sept. 14 – AmericanaFest – Nashville, TN
Sept. 22 – Charleston Civic Center – Charleston, WV*
Sept. 23 – Erie Insurance Center – Erie, PA*
Sept. 28 – Trans-Pecos Festival – Marfa, TX
Oct. 7 – Museum of Appalachia – Clinton, TN
Oct. 20 – Music In The Mill – Hickory, NC
Oct. 27 – Resch Center – Green Bay, WI
Oct. 28 – Target Center – Minneapolis, MN*
Oct. 29 – Bridge View Center – Ottumwa, IA
Nov. 3 – Lafayette Cajundome – Lafayette, LA*
Nov. 4 – Bell County Expo – Belton, TX*
Jan. 5 – The MusicFest at Steamboat – Steamboat, CO
Jan. 23 – Kent State Universtiy at Tuscarawas – New Philadelphia,  PA
Feb. 4 – Cayamo Cruise – New Orleans, LA
Feb. 16 – Arizona Musicfest – Scottsdale, AZ
 *denotes shows w. Alan Jackson
More Info on Lee Ann Womack
http://shorefire.com/client/lee-ann-womack
https://www.facebook.com/LeeAnnWomack
https://twitter.com/leeannwomack