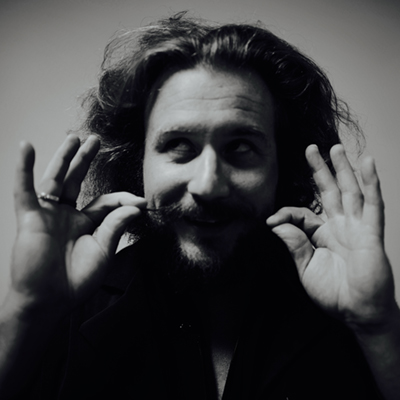 Jim James' Tribute To 2 Out Now!
After releasing the politically charged solo album Eternally Even in 2016, My Morning Jacket frontman Jim James returns with Tribute To 2, a collection of cover songs that reverberate with fresh meaning. Blurring the boundaries of time and genre, James interprets songs made famous by a wide variety of artists – ranging from early 20th century standards by Ray Noble and Al Bowlly ("Midnight, the Stars and You," "Love is the Sweetest Thing") and 1960's songs by Willie Nelson and Sonny & Cher to Emerson, Lake & Palmer's 1970 breakthrough hit "Lucky Man" and 1990's releases by Abbey Lincoln and Diane Izzo. Tribute To 2 will be released on December 8 via ATO Records. See below for track listing.

Order from the ATO store for exclusive limited-edition bundle options.
"Even though she released this song in 1991 it felt so relevant to right now," James explained. "I think so many of us feel the world is falling apart right now – that the powers that be are trying to divide us and rip us apart … when I heard that song it just resonated deeply because there is such pain there but I feel she also is offering hope and realization that we need each other's help in times of crisis."
Tribute To 2 – Track Listing
I Just Wasn't Made for These Times —- by The Beach Boys
Baby Don't Go —- by Sonny & Cher
Wild Honey —- by Diane Izzo
Midnight, the Stars and You —- by Ray Noble & Al Bowlly
Crying in the Chapel —- by The Orioles
Funny How Time Slips Away —- by Willie Nelson
Love is the Sweetest Thing —- by Ray Noble & Al Bowlly
I'll Be Your Baby Tonight —- by Bob Dylan
Lucky Man —- by Emerson, Lake & Palmer
The World is Falling Down —- by Abbey Lincoln
Blue Skies —- by Irving Berlin
On December 8, ATO will also reissue 2009's Tribute To with new cover art and a bonus track – James' cover of Bob Dylan's "If Not For You", which was also recorded in the original 2001 session. SPIN then described the EP as "spare and somber – just that windy Americana tenor against a squeaky acoustic guitar … Many of us remember where we were when Harrison died; now we hear when James began to heal."
Tribute To – Reissue Track Listing
Long, Long, Long —- by George Harrison
Behind That Locked Door —- by George Harrison
Love You To —- by George Harrison
My Sweet Lord —- by George Harrison
Ballad of Sir Frankie Crisp (Let It Roll) —- by George Harrison
All Things Must Pass —- by George Harrison
If Not For You [Bonus Track] —- by Bob Dylan