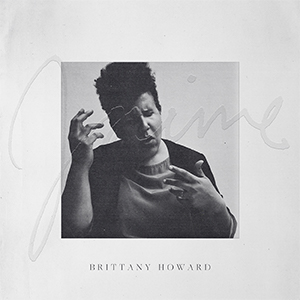 Jaime, Brittany Howard's Debut Solo Album, Set For September 20 Release
Brittany Howard – lead vocalist/guitarist for the chart-topping, GRAMMY®-winning band Alabama Shakes – will release her debut solo album, Jaime, on September 20. Today, she shared the leadoff track, "History Repeats."

Pre-order Jaime here.

Listen to "History Repeats" below
"'History Repeats' is as much a personal song as it is a song about us as a human species. Our times of success may propel us forward, but our repeating failures hold us back from evolving into harmony," says Brittany Howard, who posted her mission statement for the album earlier today. See below for links to her social media.

As the frontwoman and guitarist for Alabama Shakes, Howard has become one of music's most celebrated figures. The band has won four GRAMMY Awards and topped the Billboard 200 with the Gold-certified Sound & Color, the follow-up to its Platinum debut album, Boys & Girls. Howard has performed everywhere from the Obama White House to the main stage at Lollapalooza, where she sang with Paul McCartney at his invitation. In between albums and tours with Alabama Shakes, Howard grows restless. "To me, there is no time off – I'm a creative person and I need to create, or I just feel weird, not fully human," she says. She's channeled that relentless creativity into Jaime, her most revelatory work yet.

Howard recorded Jaime after a cross country drive that took her from Nashville to a small house in Topanga, CA – a rustic Los Angeles county town wedged between the mountains and the beach. She titled the album after her sister, who taught her to play the piano and write poetry, and who died of cancer when they were still teenagers.

"The title is in memoriam, and she definitely did shape me as a human being," saysBrittany Howard. "But, the record is not about her. It's about me. I'm pretty candid about myself and who I am and what I believe. Which is why I needed to do it on my own."

While Howard admits it was daunting, stepping out alone from her work with Alabama Shakes and revealing so much of herself, it was a necessary step. "I turned 30 and I was like, 'What do I want the rest of my life to look like?'" she recalls. "Do I want to play the same songs until I'm 50 and then retire, or do I do something that's scarier for me? Do I want people to understand me and know me, do I want to tell them my story? I'm very private, but my favorite work is when people are being honest and really doing themselves."

Howard will support the album with a North American tour, which includes two-night stands at intimate venues in Asheville, NC, Washington, DC and Los Angeles. The headline run will also include shows at Ryman Auditorium in Nashville (August 19) and New York City's Beacon Theatre (September 24). See below for full itinerary. Howard and her band made their live debut last week at the prestigious Cannes Lions International Festival of Creativity.

The fan ticket presale begins today at 10:00 AM local time. Tickets go on sale to the public on Friday, June 28, at 10:00 AM local time unless otherwise noted below. Every online ticket purchased for the U.S. dates on the fall tour will include a CD of the new album, Jaime.

Brittany Howard – North American Tour
Tickets go on sale to public Friday, June 28, at 10:00 AM local time, unless otherwise noted.
* Tickets on sale Friday, June 28, at 12:00 PM
** Tickets on sale Thursday, June 27, at 10:00 AM
8/17 | Asheville, NC | Orange Peel *
8/18 | Asheville, NC | Orange Peel *
8/19 | Nashville, TN | Ryman Auditorium
8/23 | Washington, DC | 9:30 Club **
8/24 | Washington, DC | 9:30 Club **
9/18 | Milwaukee, WI | Riverside Theater
9/19 | St. Paul, MN | Palace Theatre
9/20 | Chicago, IL | Riviera Theatre
9/22 | Toronto, ON | Rebel
9/24 | New York, NY | Beacon Theatre
9/25 | Boston, MA | House of Blues
9/27 | Philadelphia, PA | The Fillmore
10/5 | Austin, TX | ACL Festival – tickets on sale now
10/8  | Los Angeles, CA | Theatre at Ace Hotel
10/9 | Los Angeles, CA | Theatre at Ace Hotel
10/12 | Austin, TX | ACL Festival– tickets on sale now
10/13 | Atlanta, GA | AfroPunk Festival – tickets on sale now
Follow Brittany Howard:
Instagram @blackfootwhitefoot
Twitter @blkfootwhtfoot
Facebook.com/BrittanyHowardOfficial