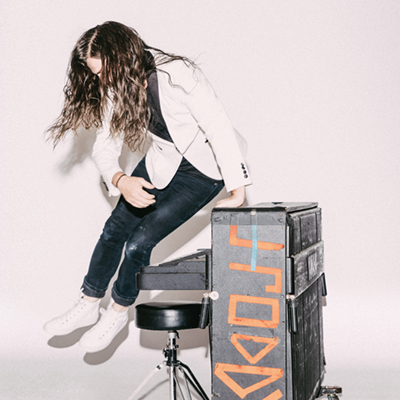 New J. Roddy Walston & The Business Album "Destroyers of the Soft Life" Out Now; Watch CONAN performance
J. Roddy Walston & The Business has melded engaging, melodic songwriting with sharp observations about American culture on Destroyers of the Soft Life, their new album out NOW.
Get it now on gleaming white vinyl or CD, and stream/download everywhere: http://smarturl.it/jroddydestroyers
Watch the band's CONAN performance and read an exclusive interview with Noisey:
Produced by studio veteran Phil Ek (Fleet Foxes, Built To Spill, Father John Misty) and mixed by M. Allen Parker (Dan Auerbach, Sheryl Crow), Destroyers of the Soft Life began two years ago when Rod Walston (lead singer / guitarist / piano), Billy Gordon (guitar), Logan Davis (bass) and Steve Colmus (drums) purchased space in a Richmond, Virigina WWII era bomb shelter turned lumber yard. The foursome gutted and subsequently spent seven months transforming it into their own recording studio. As they put down roots Walston also became a father for the first time, inspiring lyrics that take an unflinching look at family dynamics and parental motivations.
"We had never been a band where we pretended that it's 1965," Walston said. "Loud rock and roll music has become less relevant because it's just been on a loop," he says. "If there was any rule on this record, it was, let's be a part of music right now. I want to be part of living music in this moment."
TOUR DATES
9/30 – Solana Beach, CA – Belly Up
10/4 – Jackson, MS – Duling Hall
10/5 – Pensacola, FL – Vinyl Music Hall
10/7 – Jacksonville, FL – Jack Rabbits
10/8 – Ft. Lauderdale, FL – Culture Room
10/10 – Orlando, FL – The Social
10/11 – Ybor City, FL – Crowbar
10/13 – Macon, GA – Cox Capitol Theatre
10/14 – Greenville, SC – Fall for Greenville
10/15 – Knoxville, TN – Bijou Theatre