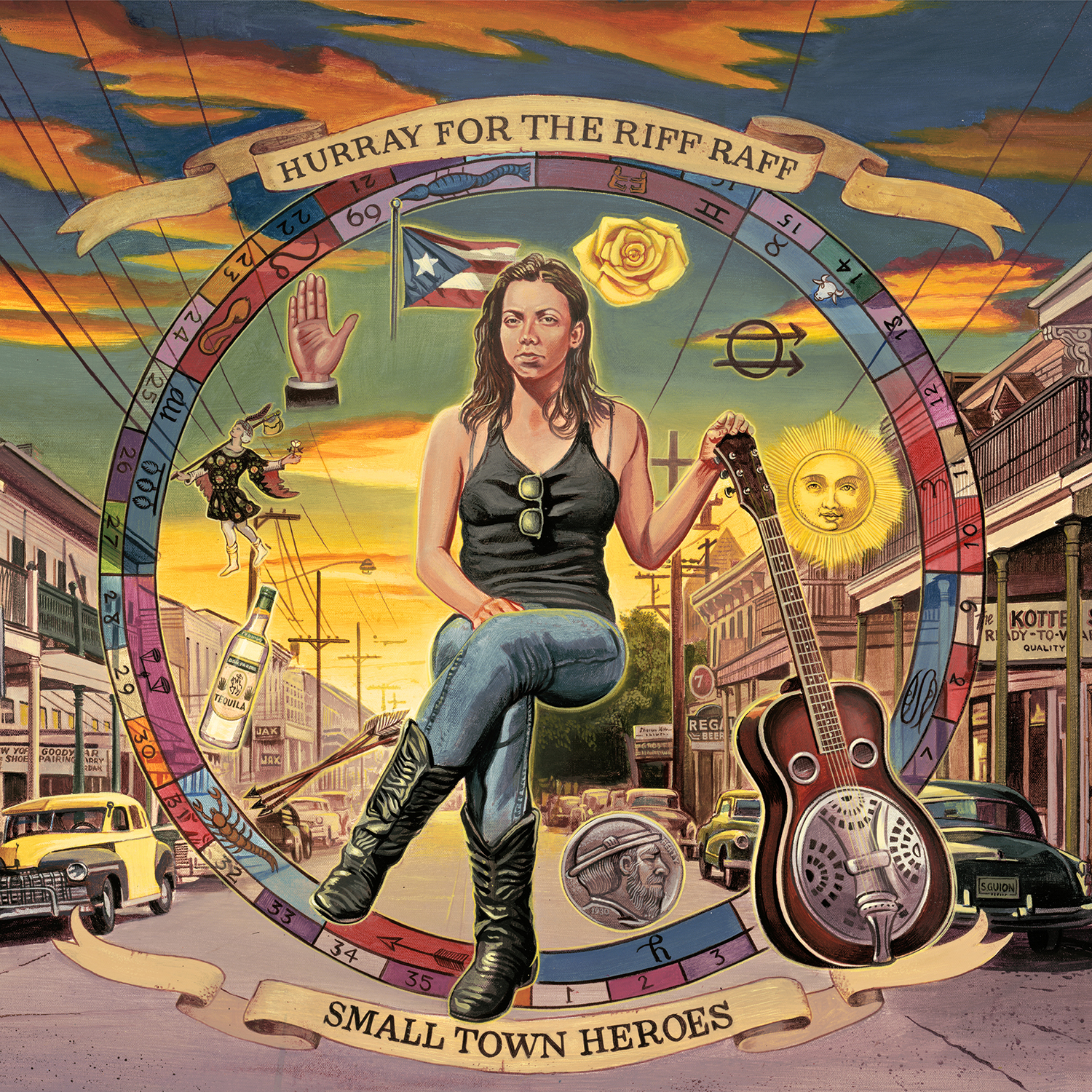 Hurray for the Riff Raff premiere "End of the Line"
Recently called one of the best live bands around by the Alabama Shakes' Brittany Howard in Rolling Stone, Hurray for the Riff Raff just added new headlining shows to their 2014 tour, which kicks off with an APAP Showcase at NYC's Highline Ballroom on Jan. 9 and dates with Shovels & Rope. Hurray for the Riff Raff's new dates include two more shows in NYC (4/2 at Knitting Factory, 4/3 at Lincoln Center), plus shows in Philadelphia, DC, Boston, Seattle, and more (full schedule below).
Garden & Gun just premiered Hurray's new song "End of the Line" and the album cover of their ATO Records debut 'Small Town Heroes' (out Feb 11), now available for preorder. The band's pre-order includes pink vinyl, limited-edition prints of the album cover, and silkscreened valentines from Hurray's Alynda Lee Segarra. Listen to "End of the Line" at Garden & Gun: http://gardenandgun.com//blog/premiere-hurray-riff-raff-end-line
The New Orleans group also announced they are confirmed to be featured in Episode 4 of the final season of HBO's 'Treme', the third time their music will appear on the show.
"End of the Line" Live Video
Preorder 'Small Town Heroes' here:
http://hurrayfortheriffraff.com/preorder-small-town-heroes/
http://smarturl.it/HDTRRiTunesPreOrder
Hurray for the Riff Raff Tour Dates:
* w/ Shovels & Rope
1/09 – New York, NY @ Highline Ballroom (APAP Showcase)
2/14 – New Orleans, LA @ One Eyed Jacks (Record Release Party)
2/21 – Baton Rouge, LA @ Mud & Water *
2/22 – Dallas, TX @ Trees *
2/23 – Fayetteville, AR @ George's Majestic Lounge *
2/25 – St Louis, MO @ Off Broadway Nightclub *
2/26 – Nashville, TN @ Cannery Ballroom *
2/28 – Birmingham, AL @ WorkPlay Soundstage *
3/01 – Atlanta, GA @ Variety Playhouse *
3/02 – Chattanooga, TN @ Rhythm & Brews *
3/06 – Carrboro, NC @ Cat's Cradle *
3/07 – Asheville, NC @ The Orange Peel
3/08 – Savannah, GA @ Savannah Stopover Music Festival
3/29 – New Orleans, LA @ Hogs For A Cause
4/02 – Brooklyn, NY @ Knitting Factory
4/03 – New York, NY @ Lincoln Center "American Songbook"
4/04 – Philadelphia, PA @ XPN Live @ Noon
4/05 – Boston, MA @ The Sinclair
4/08 – Philadelphia, PA @ World Café Live
4/09 – Washington, DC @ Sixth & I Historic Synagogue
4/10 – Chapel Hill, NC @ Local 506
4/18 – Seattle, WA @ Tractor Tavern
4/19 – Portland, OR @ Aladdin Theater
4/22 – San Francisco, CA @ The Independent
4/26 – Indio, CA @ Stagecoach Festival