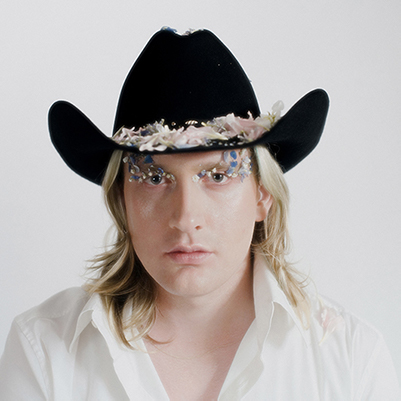 Honey Harper Shares New Single "Tomorrow Never Comes" and Shares New Video For "Strawberry Lite"
"a gorgeous kind of spaced-out country that's anchored by the musician's clean, androgynous voice"– The FADER
"weightless in sound and heavy in feeling"– Pitchfork
"Fantastic… we're excited to see what's next for this guy."– Stereogum
Today, Honey Harper shares a new single to celebrate the arrival of summer. "Tomorrow Never Comes" arrives ahead of his headlining show at Mercury Lounge in NYC this Wednesday and serves as the latest offering of new music from Harper, following his recent two track EP that included previously-released singles "Strawberry Lite" and "Vaguely Satisfied." Harper is also set to perform at Bonnaroo this week following is NYC appearance.
Speaking on his inspiration behind the new single, Honey Harper shares, "'Tomorrow Never Comes is my '70s alt-country sing-along turned krautrock jam that simply is about the early days of me and my wife/co-writer's love and relationship. It's a musical and personal celebration of summer. In the song, I sing about how my wife and I were possibly aligned/meant to be because of our astrological signs. She is a Gemini and I am a classic Leo so we begin and end the summer season (though not in strict astrological terms). So Happy Birthday to all the fellow Geminis and Leos and Happy Summer to everyone!"
Along with the new single, Harper is sharing a new visual for "Strawberry Lite." Collaborating with director Catherine Hyland and director of photography Jorde Luis Dieguez, the video is an ode to Earth and nature, inspired by Harper's lyrics of relief when setting foot back on solid ground after flying. The song served as the initial offering from Harper's two-track EP, which is out now on 7″ vinyl and arrives ahead of his debut album due later this year.
With new music on the horizon, Honey Harper is gearing up to become the torchbearer for a revitalized country sound. Whilst he's hard at work on his forthcoming debut album, he'll also be performing a string of shows across North America including Bonnaroo and headlining shows in New York and Los Angeles this month. Dates across the UK with Mattiel to follow in July.
Hear "Tomorrow Never Comes" and watch "Strawberry Lite" above and find full tour routing below.
vinyl photo by Tonje Thilesen
Tour Dates: 
6/12 – New York, NY @ Mercury Lounge
6/15 – Manchester, Tennessee @ Bonnaroo
6/18 – Los Angeles, CA @ Gold Diggers
7/1 – Norwich, UK @ NAC*
7/2 – Manchester, UK @ Gorilla*
7/3 – Glasgow, UK @ Oran Mor*
7/4 – Edinburgh, UK @ Caves*
7/7 – Nottingham, UK @ Rescue Rooms*
7/8 – Leeds, UK @ Brudenell Social*
7/9 – Dublin, UK @ Whelan's*
7/11 – Brighton, UK @ The Haunt*
7/12 – London, UK @ EartH** with Mattiel