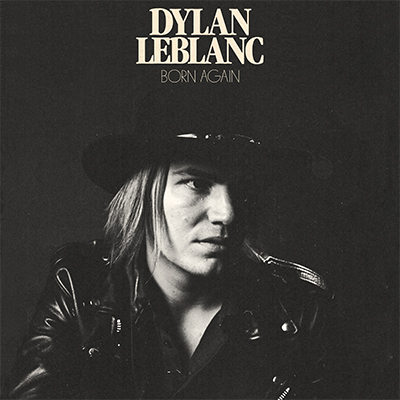 Dylan LeBlanc's "Born Again" Premieres at BrooklynVegan
"A minor-key rocker, 'Renegade' would've dominated FM radio in 1982, back when Tom Petty & The Heartbreakers filled the airwaves with darkly-driven anthems."
-ROLLING STONE

Dylan LeBlanc's new song, "Born Again," is premiering today at BrooklynVegan.
Of the song, LeBlanc comments, "This song came after days of feeling blocked and unable to think of anything to write about and I had the TV on in the background when I heard the words 'born again.' And even though that term is tied to religious meaning, I thought it was interesting and thought about my own experience of wanting to be different, tired of pain and how sometimes life literally beats you into a state of submission. It literally beats you down until you're 'born again,' until some sort of accordance with the universe takes place, but how everything in your past leads you up to that point. It may happen several times in a person's life, so I tried to pack all that in as few words as possible, which resulted in this song."
"Born Again" comes from LeBlanc's highly anticipated new album, Renegade, which will be released June 7  is now available for pre-order. Produced by Grammy Award winning Dave Cobb (Brandi Carlile, Chris Stapleton), the album features ten new songs and LeBlanc's longtime band, The Pollies. Of the album LeBlanc says, "I wanted to write the same type of songs that matched the atmosphere the band and I were bringing live. So, I started with 'Renegade,' which was fitting since I felt myself going in a new, more intense direction with this record. In the studio, I let go almost absolutely and let Dave Cobb do his work. It was a different experience for me—how focused Cobb was and how quickly we would get live takes down. Mostly in one or two takes. Never more than three. It left me spinning at how quickly it all came together. Over the course of ten days Renegade was complete and ready for mastering. And I couldn't be more excited to share it with you."
In celebration of the release, LeBlanc will embark on an extensive headline tour this summer, including shows at Atlanta's The Earl, Los Angeles' Troubadour, Brooklyn's Rough Trade, Nashville's Basement East, San Diego's Casbah, London's Omeara , Paris's Les Etoiles and Berlin's Privatclub among others. See below for more info and a complete tour itinerary.
DYLAN LEBLANC CONFIRMED TOUR DATES
June 12—Atlanta, GA—The Earl
June 13—Carrboro, NC—Cat's Cradle Back Room
June 14—Washington, DC—Pearl Street
June 15—Philadelphia, PA—Boot & Saddle
June 18—Bethlehem, PA—Blast Furnace
June 19—Brooklyn, NY—Rough Trade
June 20—Pittsburgh, PA—Club Cafe
June 21—Detroit, MI—El Club
June 22—Winnetka, IL—Winnetka Festival
June 23—Chicago, IL—Schubas Tavern
June 25—La Crosse, WI—Charmant Hotel
June 26—Minneapolis, MN—Turf Club
June 27—Iowa City, IA—The Mill
June 28—St Louis, MO—Old Rock House
June 29—Nashville, TN—The Basement East
July 10—New Orleans, LA—One Eyed Jacks
July 11—Houston, TX—White Oak
July 12—Austin, TX—Stubbs Jr
July 13—Dallas, TX—Dada
July 14—Oklahoma City, OK—VZD's
July 16—Phoenix, AZ—Valley Bar
July 17—San Diego, CA—Casbah
July 18—Los Angeles, CA—Troubadour
July 19—Santa Cruz, CA—Catalyst Atrium
July 20—San Francisco, CA—The Independent
July 23—Portland, OR—Doug Fir
July 24—Seattle, WA—Tractor
July 27—Denver, CO—Globe Hall
August 11—Venlo, NL—Zomerparkfeest
August 12—Hamburg, DE—Knust
August 16—Olso, NO—John Dee
August 17—Göteborg, SWE—Pustervik
August 20—Stockholm, SWE—Bryggarsalen
August 21—Copenhagen, DK—Vega
August 23—Oberhausen, DE—Zentrum Altenberg
August 24—Amsterdam, NL—Once In A Blue Moon
August 25—Charleville-Mézières, FR—Le Cabaret Vert
August 28—Paris, FR—Les Etoiles
August 29—Sint Niklaas, BE—Casino
August 30—Berlin, DE—Privatclub
August 31—Dresden, DE—Sound of Bronkow Festival
September 3—London, UK—Omeara
September 4—Leeds, UK—Brudenell Social Club
September 5—Manchester, UK—Night People
September 7—Enschede, NL—Tuckerville