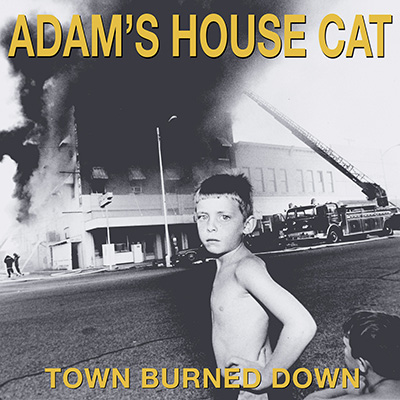 Drive-By Truckers Finally Unveil "Lost" Adam's House Cat Album
On September 21st, ATO is proud to release the "lost" album by Adam's House Cat titled Town Burned Down. Formed in 1985 by Patterson Hood and Mike Cooley, Adam's House Cat appeared primed for success in the Our Band Could Be Your Life / pre-Nirvana-era of indie-rock. The tracks have a fierce Replacements-like edge to them, but Hood's vocals and melodies are unmistakable, and this collection is a stunning preview of the songwriter he would eventually become. This lone album was recorded in 1990, but things fizzled out for the band shortly after as members moved away or got real jobs. Hood and Cooley stayed in touch, of course.
The master tapes were unearthed a few years ago and Hood decided to give them a full re-mix, he cleaned up the vocals and sent them to Sterling Sound for mastering. The resulting album sounds fantastic, and the package comes with short-story length liner notes from Patterson detailing the rise and fall of the band. The LP comes on yellow vinyl.
DRIVE-BY TRUCKERS TOUR DATES 2018: 
August 25 – Amsterdam NL – Once in a Blue Moon Festival
September 2 – Sausalito, CA – Sausalito Art Festival
September 3 – Richmond, VA – Stone's Throw Down
September 22 – Chicago, IL – Goose Island Block Party
September 27 – Knoxville, TN – Bijou Theatre #
September 28 & 29 – Atlanta, GA – Variety Playhouse #
September 30 – Chattanooga, TN – Walker Theatre
October 2 – Peoria, IL – Monarch Music Hall *
October 3 – Lincoln, NE – Bourbon Theatre *
October 5 – Boulder, CO – Boulder Theater *
October 6 & 7 – Fort Collins, CO – Washington's
November 6, 7 & 8 – Birmingham, AL – Saturn
November 9 & 10 – Nashville, TN – Cannery Ballroom &*
November 13 – Little Rock, AR – Revolution Music Room *
November 14 – Tulsa, OK – Cain's Ballroom *
November 15 – Dallas, TX – Granada Theater
November 16 & 17 – Austin, TX – The Scoot Inn *
January 27 – Feb 1 – Tampa, FL – Outlaw Music Cruise – SOLD OUT
# – w/Adam's House Cat
 *- w/T. Hardy Morris
& – w/Lily Hiatt
PATTERSON HOOD SOLO DATES
October 12 – San Diego, CA – Music Box
October 13 – Santa Monica, CA – McCabes
October 14 – Mill Valley, CA – Sweetwater Music Hall
DIMMER TWINS DATES (Patterson Hood & Mike Cooley)
September 7 – Cockeysville, MD – Drool of Rock