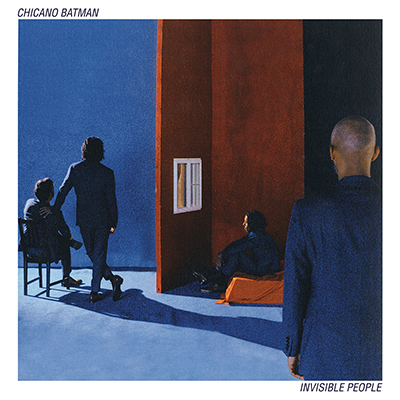 Chicano Batman's New Album 'Invisible People' Is Out Today
Chicano Batman's New Album 'Invisible People' Is Out Today
Chicano Batman's highly anticipated new album 'Invisible People' is out today. The album channels the kinetic spirit of Los Angeles into a wildly shapeshifting sound, ultimately finding an unstoppable joy in following Chicano Batman's most outrageous instincts. While 'Invisible People' mines inspiration from krautrock acts like Can and Neu! and the Nigerian synth-funk of William Onyeabor, it also embodies elements of hip-hop and R&B—especially in its endless barrage of addictive hooks and hard-hitting beats.
Watch Their Performance on the Late Show with Stephen Colbert #playathome series
Listen/share here: http://smarturl.it/invisiblepeople
"This album is an evolution from our last one in that we put much more thought in our approach to the songwriting and production before hitting record," guitarist of Chicano Batman Carlos Arévalo says. "We went in with a plan that helped guide the musical direction. We demoed songs for over a year before going into the studio as well. In the past, we'd pool some songs together, rehearse them for a few weeks and go in and simply record them. This time we had a much more elaborate MO; replace organs with synthesizers, make the guitars funkier, and have the drums and bass play beats that make your head bob up and down.
For the album, the band worked with Shawn Everett, the GRAMMY-award winning mixing engineer known for his work with Alabama Shakes, War on Drugs, Kacey Musgraves, and Julian Casablancas. With Leon Michels' (Sharon Jones & The Dap-Kings, Lee Fields & The Expressions) producing and Everett's mixing steering the record's direction, the band's lush sound has become a more pointed, densely layered soundscape. 'Invisible People' is an illuminating and encapsulating listen, one that hasn't lost the essence that put Chicano Batman on the map and makes a stirring point about the times we're living in.
The album's lead track "Color my life" was lauded by Rolling Stone as a "tropicalia-infused thesis on a utopian world where factors like race, gender and class do not preclude the potential for human connection and solidarity" and garnered support from Rivers Cuomo and Danger Mouse.
'Invisible People' Tracklisting:
Color my life
Blank Slate
I Know It
Invisible People
Manuel's Story
Moment of Joy
Pink Elephant
Polymetronomic Harmony
The Way
The Prophet
Bella
Wounds
CHICANO BATMAN ON THE WEB:
https://www.instagram.com/chicanobatman/
https://www.facebook.com/chicanobatman/
https://www.youtube.com/channel/UCX_d31bxww8NGANPDV_yuRw