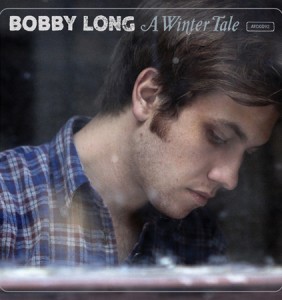 Pre-Order Bobby Long's Debut Album 'A Winter Tale'
ATO Records is thrilled for the upcoming release of Bobby Long's debut record, A Winter Tale. This highly anticipated album, produced by Grammy-award winner Liam Watson of The White Stripes, will be released on February 1st.
You can pre-order A Winter Tale here. The first 500 pre-orders receive an autographed lyric book. Additionally, every order comes with an exclusive live three-song digital EP (details on songs to be released shortly) An exclusive A Winter Tale Tee-shirt bundle (only available at this web-store) is also available with order of CD, Download, and Vinyl. All orders will be delivered on February 1st, 2011!
If you've never heard Long's songs, the San Diego Entertainer describes them as "a well-orchestrated ballet of chord progressions and vocals that pluck at the deepest confined thoughts of your soul."
Long will kick off a nationwide U.S. tour this January in support of the new album.  Head over to www.bobbylong.info to purchase tickets.
TOUR DATES
January 9            Brooklyn, NY                 Public Assembly  (win tickets)
January 24            Park City, UT               House of Blues Park City
January 25            Park City, UT               Sundance ASCAP Music Café
January 28            Vancouver, BC            Media Club
January 29            Seattle, WA                  Tractor Tavern
January 31            Portland, OR                Doug Fir
February 2            San Francisco, CA       Café du Nord
February 3            Los Angeles, CA           The Troubadour
February 4            San Diego, CA              Anthology
February 5            Tucson, AZ                   Club Congress
February 8            Salt Lake City, UT       Kilby Court
February 10            Denver, CO                 Bluebird
February 11            Lawrence, KS             Bottleneck
February 12            St. Louis, MO             Old Rock House
February 14            Madison, WI              High Noon Saloon
February 15            Minneapolis, MN      Varsity Theater
February 16            Milwaukee, WI           Turner Ballroom
February 17            Indianapolis, IN        Radio Radio
February 18            Chicago, IL                  Schuba's
February 19            Columbus, OH            Basement
February 21            Ann Arbor, MI            The Ark
February 22            Toronto, ON                Revival
February 23            Montreal, QC              Divan
February 24            Burlington, VT           Higher Ground
February 25            Portland, ME              Port City Music Hall
February 26            Boston, MA                 Brighton Music Hall
February 28            Northampton, MA     Iron Horse
March 1            Baltimore, MD                   Otto Bar
March 3            New York, NY                    Bowery Ballroom
March 4            Philadelphia, PA              World Café
March 5            Vienna, VA                         Jammin Java
March 22            Charlottesville, VA         The Southern
March 23            Pittsburgh, PA                 Rex Theatre
March 24            Cincinnati, OH               20th Century Theatre
March 25            Knoxville, TN                 Barley's Tap Room
March 26            Louisville, KY                 Headliners Music Hall
March 27            Nashville, TN                 3rd & Lindsley
March 29            Raleigh, NC                    Lincoln Theatre
March 31            Greenville, SC                 The Handlebar
April 1            Atlanta, GA                          Vinyl
April 2            Orlando, FL                        The Social
April 3            Jacksonville, FL                Jack Rabbits
April 5            Birmingham, AL               Workplay
April 6            Memphis, TN                     Hi-Tone
April 8            Dallas, TX                         Poor David's Pub
April 9            Austin, TX                         Stubbs Jr.
April 10            Houston, TX                  Fitzgerald's