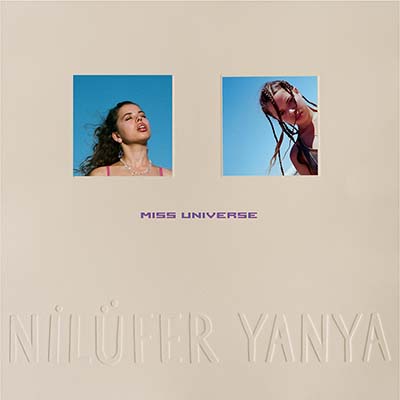 Nilüfer Yanya Announces Debut Album, Miss Universe, With Video for "In Your Head"
"London's most exciting pop artist" –Pitchfork 
"Her voice will surprise you, her raw, romantic songs about love and loss will break your heart, and you better get ready to hear more." -Noisey
"Boldness is warranted when you've got a hook as devastating as the one that Nilüfer Yanya repeats" -The New York Times
Nilüfer Yanya, London's 23 year-old "effortlessly smooth new soul star" (The FADER) has today announced her hotly-anticipated debut full length album Miss Universe. The record will be released onMarch 22 via ATO Records and launches today with the unveiling of Nilüfer's new single and video "In Your Head".
The stunning video for 'In Your Head' was filmed in the Las Vegas desert by longtime creative collaborator ENERGYFORCE and mirrors the track's thrilling choruses and frantic energy. Speaking about "In Your Head", Nilüfer said, "Sometimes my mind plays tricks on me and I get trapped. There's the things I need disguised as things I think I only want, things I think I'm choosing out of choice not necessity. Sometimes this only becomes clear in retrospect, or maybe it will never become clear. Some people may call that being paranoid. I think that's what I wrote the song about , but what's interesting to me, and what I think I was trying to get at, is the illusion of freedom."
Miss Universe was largely recorded in the same remote Penzance studio she used to jam in with her uncle Joe – a former musician himself – and features co-productions with both her former school guitar teacher The Invisible's Dave Okumu and her live bandmates Jazzi Bobbi and Luke Bower, as well as producers John Congleton, Oli Barton-Wood, Will Archer and M.T. Hadley.
2019 is starting in whirlwind fashion with Nilufer touring throughout February with Sharon Van Ettenacross North America. The tour kicks off in Washington, D.C. on February 6 before hitting several major cities including NYC, LA, Chicago, Philadelphia, San Francisco and more. Following that run, Nilüfer will embark on her biggest U.K., Europe and Turkey headline tour to date in April, beginning with a show in Nilüfer's father's ancestral home Istanbul. Tickets for all of her upcoming tour dates are available from HERE.
Following her inclusion in the BBC's influential Sound Of poll in 2018, Nilüfer was recently tipped as anArtist to Watch in 2019 by The Guardian, The Independent, NYLON, and more. The foundations are firmly laid for Nilüfer Yanya's debut album – and her confirmation as a rare and utterly original British songwriting talent.