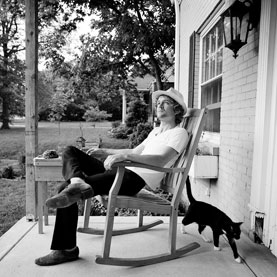 Brendan Benson
Taking a break from writing, recording and touring with the Grammy winning Raconteurs, Benson went into the studio in Nashville and London with producer, Gil Norton (Pixies, Maximo Park, Foo Fighters) and mixer Dave Sardy (The Rolling Stones, LCD Soundsystem, Oasis). The result is a timeless, 11-track album.
My Old, Familiar Friend is a marriage of passion and perfectionism and an illustration of all that is special about Brendan Benson. From the seductive glimmer of "Feel Like Taking You Home" to the Motown swoon of "Garbage Day" Benson has shaped his restless-hearted stories into songs that fit together with exquisite neatness. Benson's musical approach is detailed, craftsman-like and fastidious. Take for instance "A Whole Lot Better," the first US single, in which harmonies, hand-claps and guitar are layered to produce a work of heart-felt buoyancy- a work that culminates in the sweet, dove-tailing swoop of its refrain: "I fell in love with you/ And out of love with you/ And back in love with you/ All in the same day." The album is comprised of songs that arrive perfectly formed and immaculate, the sound of a classic singer/songwriter operating at the top of his game.
It is a style he has honed, of course. On 1996's One Mississippi, the songs came rough-hewn but charged with hooks and with wit; 2002's Lapalco brought a perfect pop ripeness, and by The Alternative to Love in 2005, there was something quite brilliant and burnished about his songwriting. Along the way he has co-written and recorded two spectacular albums with The Raconteurs, Broken Boy Soldiers and Consolers of the Lonely. For Benson, The Raconteurs was not just an opportunity to play with close friends Jack White (The White Stripes) Jack Lawrence and Patrick Keeler (The Greenhornes) but also a chance to roll around in the rock, psychedelia and blues that has shaped his musical taste.
Through all of Brendan Benson's songs ribbons a delight in melody. With an undeniably distinctive voice, a knack for writing a timeless tune and a sweet, effortless delivery, Brendan proves to be a singular voice in music today.
Artist News