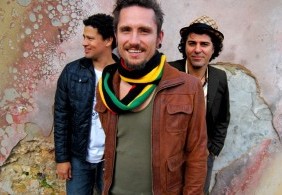 John Butler Trio – April Uprising Album & Summer Tour Dates
April Uprising
To be released April 6, 2010, John Butler returns with his first album in three years. The album finds the multi-platinum Australian artist with a new line up and a new label in the states–yours truly, ATO Records. April Uprising, Butler's most focused, diverse and accessible album to date has already yelded a No. 1 song on the Australian airplay charts with its first single, "One Way Road."
April Uprising's spirit of renewel and rebirth is the culmination of an especially momentous period in his life. It began with the seemingly innocuous act of cutting his hair and taking a few months off in late 2008. But it was his appearance on the Australian TV series, Who Do You Think We Are (which takes well-known artists and traces their family trees) that turned out to be a life-changing experience, leading him on the personal and spiritual journey that inspired this album. Butler began his voyage hoping to find poets, musicians, and revolutionaries in his past. Instead, he traced his name through generations of hardship to a matriarch who sang for her survival; he traced his Bulgarian ancestry to a forbearer caught up in a violent revolt. Getting to know his ancestors–trailblazers, idealists, and bona fide revolutionaries–helped him build a profound sense of his passions as a writer and musician.
Between the epic opening track, "Revolution," and a whispered acoustic coda, "A Star is Born," dedicated to John's son, April Uprising is an album that combines the personal, the political, and the musically memorable with skill and passion.
Revolution underway!!!
| | | | |
| --- | --- | --- | --- |
| 2010-05-20 | House Of Blues | San Diego | CA |
| 2010-05-21 | House Of Blues | Los Angeles | CA |
| 2010-05-26 | Crystal Ballroom | Portland | OR |
| 2010-05-27 | Crystal Ballroom | Portland | OR |
| 2010-05-28 | Moore Theatre | Seattle | WA |
| 2010-05-29 | The Commodore Ballroom | Vancouver | BC, Canada |
| 2010-06-04 | Red Rocks Amphitheatre | Morrison | CO |
| 2010-06-05 | Crossroads | Kansas City | MO |
| 2010-06-06 | Wakarusa Festival | Ozark | AR |
| 2010-06-09 | Simon Estes Riverfront Amphitheater | Des Moines | IA |
| 2010-06-10 | First Avenue and 7th St Entry | Minneapolis | MN |
| 2010-06-11 | Riviera Theatre | Chicago | IL |
| 2010-06-13 | Bonnaroo Festival | Manchester | TN |
| 2010-06-15 | Central Park SummerStage | New York | NY |
| 2010-06-17 | Penn's Landing | Philadelphia | PA |
| 2010-06-18 | BoA Pavilion | Boston | MA |