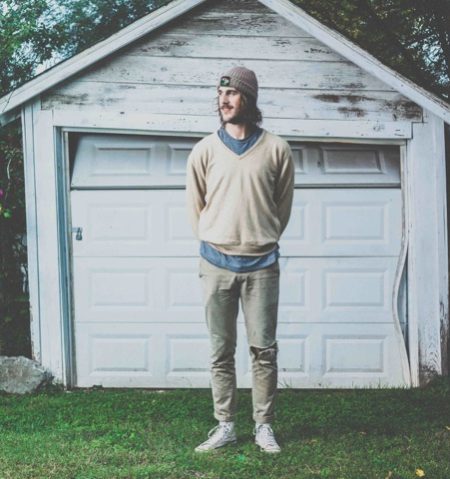 Rayland Baxter's Ashkelon EP Out Now + New Tour Dates & Music Video
ashkeLon, a new EP from Nashville singer-songwriter Rayland Baxter, is out now on ATO Records.  Purchase the album on iTunes
"A beautiful storyteller and singer…someone I think we're going to hear from a lot." —Bob Boilen, NPR Music
"…songs will absolutely bring you to your knees,"—American Songwriter
The five-song digital EP features three new songs as well as alternative versions of "the mtn song" and "driveway meLody," which were featured on Baxter's acclaimed full-length debut, feathers & fishHooks. The track, "bad things," can be heard below. Additionally, a live, in-the-studio video of the song is available to view here.
In celebration of the new EP, Baxter will embark on a series of tour dates, including a fall European tour supporting Kacey Musgraves. See below for complete details.
On August 13, the music video for one of the new tracks, "Ghost, Again," premiered at CMT Edge and is now available to view/embed here. Additionally, the audio and video for the track "bad things" premiered earlier this year at Paste Magazine. Moreover, a new video entitled "Who is Rayland Baxter" is available to view/embed here.
Named after the town in Israel where Baxter spent a pivotal time of his life, ashkeLon was recorded live in one day, at East Nashville's Casino studio. Of the title, Baxter comments, "ashkeLon is where I started writing songs and where I have returned numerous times. For me, that was where this all began. I thought it very fitting to name this group of songs ashkeLon for that reason. It's a very special place. It's my little green garden in the desert." He goes on to explain, "the creation of ashkeLon was inspired by every live show I have played since the time feathers & fishHooks was released. The songs turned into something else on the road…so I figured it'd be nice to go into the studio with my buds and see what would happen. We'd run through each song a time or two, and then track it three times. Pick the best take and move on to the next. That's it. I think it's a nice stepping-stone from feathers & fishHooks—showing a little bit more—and leaving a high ceiling for the second album. I love recording live. You can hear everything…the foot taps, the wood bench creaking, my buddy Dave (who filmed the entire session) tripping on the mic cable in the middle of a song…all of that makes for a incredibly unique listening experience. That's the goal. No sugar. No salt. Just the song."
Of last year's feathers & fishHooks, Interview Magazine praises, "its 12 tracks…betray the studied, well-worn maturity of a songwriter who has done his fair share of living," while the Nashville Scene asserts, "Play your kid Mozart—maybe he'll grow up to be a math genius. Play your kid Steve Earle and Bob Dylan's steel-guitar melodies—maybe he'll grow up to be Rayland Baxter."
ashkeLon track-listing:
1. the mtn song
2. bad things
3. driveway meLody
4. ghost, again
5. the coLd easy Life of a Loner
RAYLAND BAXTER CONFIRMED TOUR DATES
September 10        Los Angeles, CA        Hotel Café
September 11           Los Angeles, CA       Royce Hall*
September 14          Riverside, CA Fox         Performing Arts Center*
September 15          Temecula, CA         Thorton Winery*
September 18-22           Nashville, TN           Americana Music Festival
September 19           Charlotte, NC           Stage Door Theater
September 20 & 21            Bristol, TN           Bristol Rhythm and Roots Reunion
September 22           Austin, TX            The Parish†
September 23            Dallas, TX            House of Blues†
September 24           Oklahoma City, OK            The Blue Door†
September 26            Boulder, CO            Fox Theatre†
October 2            Stockholm, Sweden            Nalen‡
October 3            Oslo, Norway            John Dee‡
October 6            Berlin, Germany            Postbahnhof‡
October 7            Amsterdam, Netherlands           Paradiso‡
October 9            Glasgow, U.K.            Oran Mor‡
October 10            Manchester, U.K.           Academy 2‡
October 11            Dublin, Ireland            Whelan's‡
October 13           London, U.K.            O2 Shepherd's Bush Empire‡
October 17            Birmingham, AL            Workplay Theatre#
October 19            Ozark, AR            Harvest Festival
October 20            Northport, AL            Kentuck Festival
*supporting Boz Scaggs
†with Nicki Bluhm & The Gramblers
‡supporting Kacey Musgraves
#supporting Holly Williams