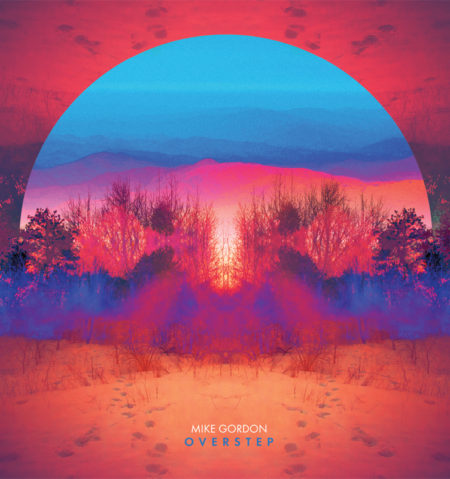 Pre-Order Mike Gordon's "Overstep" & Stream New Single
Today RollingStone.com gives "Yarmouth Road" – the first single from bassist/vocalist Mike Gordon's new solo album, Overstep – its world premiere. Fans can check out the song and Rolling Stone's exclusive interview with Gordon here
"Yarmouth Road" is one of 11 songs that Gordon wrote with guitarist and longtime collaborator Scott Murawski for Overstep, which will be released on February 25 by Megaplum/ATO Records. The infectious, reggae-inspired number is already familiar to Phish fans having debuted – along with "Say Something" – on the band's 2013 summer tour.
The single is available now on iTunes and will be available at all other digital retailers beginning January 21. The album pre-order launches today on iTunes. Fans who pre-order Overstep on the iTunes Store will instantly receive a download of "Yarmouth Road."  The album can be pre-ordered in CD and vinyl configurations at Mike's official store.
Gordon and Murawski penned the songs for Overstep during a series of writing retreats in New England. When he was ready to record, Gordon – for the first time in his solo career – decided to turn over the producing reins, enlisting Paul Q. Kolderie (Radiohead, Uncle Tupelo, Pixies). He also invited a few new players into the studio, including legendary drummer Matt Chamberlain (Jon Brion, Fiona Apple).
Overstep is a diverse yet tightly knit collection of songs. Filled with juxtapositions and surprises, the music is grounded but sophisticated, and raw but carefully considered. Distant industrial noise gradually gives way to lush guitars and welcoming vocal harmonies in album opener "Ether," which is streaming here. "Jumping" is a rhythmic puzzle box, detailing a series of thoughts that take place in a fleeting 1.5 seconds while "Tiny Little World" opens with a polite reverie about a fetching woman in a coffee shop, but morphs quickly into pulsing boogie as the narrator is carried away by desire and bravado. See below for the complete track listing.
Overstep is Gordon's fourth solo album, following 2003's Inside In, 2008's The Green Sparrow and 2010's Moss. Gordon is a founding member of Phish, which wrapped up 2013 with a sold-out, four-night stand at New York City's Madison Square Garden. He has also performed with numerous other artists and released two albums with Leo Kottke.
Track Listing – Overstep
Ether
Tiny Little World
Jumping
Yarmouth Road
Say Something
Face
Paint
Different World
Peel
Long Black Line
Surface
Mike Gordon – Spring 2014 Tour Dates
2/28 – Syracuse, NY @ Westcott Theatre
3/1 – New York, NY @ Webster Hall
3/2 – Philadelphia, PA @ Union Transfer
3/4 – Washington, DC @ 9:30 Club
3/6 – Asheville, NC @ The Orange Peel
3/7 – Pittsburgh, PA @ Stage AE
3/8 – Chicago, IL @ Park West
3/9 – Madison, WI @ Barrymore Theatre
3/11 – Minneapolis, MN @ Varsity Theatre
3/12 – Lawrence, KS @ Liberty Hall
3/14 – Boulder, CO @ Boulder Theatre
3/15 – Park City, UT @ Park City Live
3/17 – Los Angeles, CA @ The El Rey Theatre
3/18 – San Francisco, CA @ The Fillmore
3/19 – Portland, OR @ Wonder Ballroom
3/21 – Seattle, WA @ The Neptune
3/22 – Vancouver, BC @ Rio Theatre
3/28 – Boston, MA @ House of Blues
4/5 – North Adams, MA @ MassMOCA
4/6 – Burlington, VT @ Higher Ground