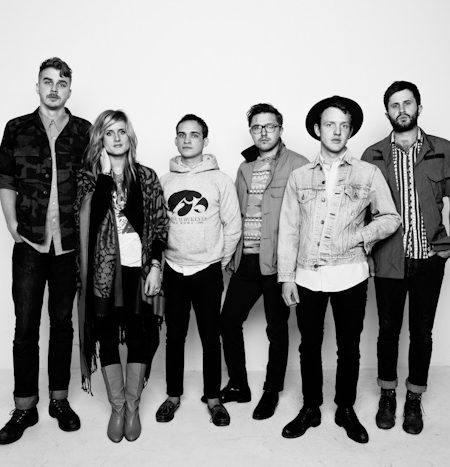 Kopecky Family Band Signs to ATO!
KOPECKY FAMILY BAND SIGN TO ATO RECORDS
WIDE RELEASE OF DEBUT ALBUM KIDS RAISING KIDS OUT APRIL 2ND, 2013
"HEARTBEAT" VIDEO ONLINE NOW
MARCH CO-HEADLINING TOUR WITH LEAGUES, APRIL HEADLINING TOUR
& DATES SUPPORTING MILO GREENE
"Quickly fell in love. The Kopecky's sweet, swollen folk-rock songs keep blooming into something irresistible."
 – NPR Music, 'Tiny Desk Concert'
"One of the most exciting acts to come out of Nashville."
– WXPN 'Artist To Watch'
Nashville, TN's Kopecky Family Band have signed to ATO Records, and their debut album Kids Raising Kids will see a wide release through the label on April 2nd, 2013.
Kopecky Family Band are not a family by blood, but by bond – through the palpable sense of community and care for one another that the members share (as the new album's title suggests), forged by time and touring. The band's origins can be traced back to a Belmont University dorm room, circa late 2007, when Kelsey Kopecky and Gabe Simon first met and heard each other casually play a few songs. The musical chemistry was instant, and within a few short weeks the two had written the songs that would become the band's debut EP, Embraces (2008). They rounded up a group of mutual friends to play with them, and Kopecky Family Band was born.
The band has amassed fans the old fashioned way: through a near-constant touring schedule that began almost immediately, with dates booked at first during breaks from school. EPs The Disaster and its B-sides companion Of Epic Proportions arrived in 2010, as did breakthrough performances at the Next Big Nashville and SXSW festivals. National tours with Devotchka, Gomez, and Givers, and performances at Bonnaroo and for NPR's Tiny Desk Concert series followed, before 2011 closed out with Paste naming them one of the '25 Best Live Acts' and '20 Best New Bands' of the year. Kopecky Family Band spent spring 2012 on the road with a co-headlining tour with The Lumineers and supporting Gogol Bordello, and wound down the year with festival appearances at Lollapalooza and Austin City Limits. In the past six months, a number of their songs have been featured on primetime TV shows as well, including: Grey's Anatomy (ABC), Parenthood (NBC), The Vampire Diaries (The CW), MTV Awkward, Beauty & The Beast (The CW), and College Game Day (ESPN), among others.
Kids Raising Kids is the sound of a band coming into its own and as a whole truly greater than the sum of its parts. It's an adventurous record, the unmistakably open sound varying from the playful sing-along pop of "Heartbeat" (official video: http://youtu.be/Wq-8dxYHnyU) to the haunting heartbreak of ballad "Change;" from the classic swing verse and mountainous chorus of "My Way" to the bright, breezy soar of "The Glow;" and from the chiming, cello-laden drive of "Hope" to the darker, propulsive "She's The One." The bright, irrepressible songs on Kids Raising Kids deal with navigating waters of change and facing challenges – like being away from home, falling in love, having perspective and seeing others', going after what you want – and also sees the band challenging themselves by creating a bigger sound than anything they've done before. The album, which began as another EP but bloomed into a full-length LP, also marks the first time contributions from all six members are upfront alongside and in complement to the leadership of Kopecky and Simon.  A full track listing is below.
Kopecky Family Band will head back out on the road next weekend for a number of tour dates in March and April. They'll first join up with Leagues for a co-headlining run beginning March 2nd at the Green Bar in Tuscaloosa, AL and wrapping up March 9th at the Underbelly in Jacksonville, FL, before hitting this year's SXSW music festival. After a string of solo headlining shows in mid-March, the band will join up with Milo Greene on April 15th at the Beachland Ballroom in Cleveland, OH for a tour that continues through April 30th at the Fox Theatre in Boulder, CO. Kopecky Family Band are confirmed to perform at the Firefly Music Festival in Dover, DE in June as well. A current itinerary is below and more dates will be announced soon.
Kopecky Family Band are: Kelsey Kopecky (vocals, keys, bass), Gabe Simon (vocals, guitar, horns), Steven Holmes (guitar, lap steel), David Krohn (drums), Markus Midkiff (cello, guitar, keys), and Corey Oxendine (bass, guitar, horns).
Kids Raising Kids track listing:
Wandering Eyes
Heartbeat
My Way
Are You Listening…
The Glow
Change
Hope
She's The One
Waves
Angry Eyes
Ella
Kopecky Family Band tour dates:
MAR. 2          TUSCALOOSA, AL                 GREEN BAR*
MAR. 4          ATLANTA, GA                         THE BASEMENT*
MAR. 5            COLUMBIA, SC                     5 POINTS PUB*
MAR. 6            COLUMBUS, GA                   THE LOFT*
MAR. 7            SAVANNAH, GA                   STOPOVER FEST
MAR. 8            TAMPA, FL                            NEW WORLD BREWERY*
MAR. 9            JACKSONVILLE, FL            UNDERBELLY*
MAR. 11          AUSTIN, TX                            SXSW
MAR. 12          AUSTIN, TX                            SXSW
MAR. 13          FAYETTEVILLE, AR             GEORGE'S MAJESTIC LOUNGE
MAR. 14          ST. LOUIS, MO                      OFF BROADWAY'S
MAR. 20          TERRA HAUTE, IN              VERVE NIGHT CLUB
APR. 15           CLEVELAND, OH                  BEACHLAND BALLROOM**
APR. 16           LOUISVILLE, KY                   HEADLINERS**
APR. 18           NEWPORT, KY                      SOUTHGATE HOUSE**
APR. 19           COLUMBUS, OH                  THE BASEMENT**
APR. 21           INDIANAPOLIS, IN               RADIO RADIO**
APR. 27           OMAHA, NE                          THE WAITING ROOM**
APR. 29           KANSAS CITY, MO              RECORD BAR**
APR. 30           BOULDER, CO                      FOX THEATRE**
JUN. 21-3         DOVER, DE                          FIREFLY MUSIC FESTIVAL
* co-headline with Leagues
** supporting Milo Greene