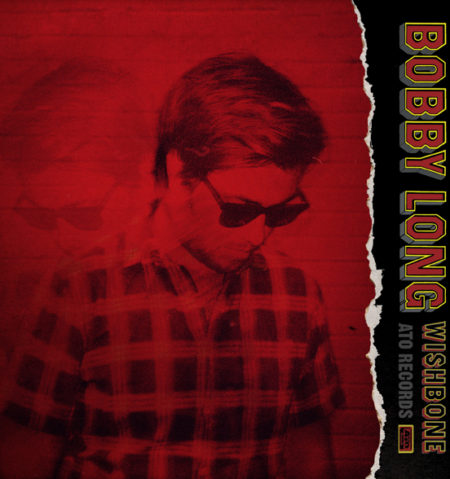 Bobby Long's "Wishbone" Now Available / On Tour Now
ATO Records and Bobby Long proudly present Wishbone, the sophomore album from the British born artist who calls New York City home. Recorded in Los Angeles with producer Ted Hutt (Gaslight Anthem, Lucero, Old Crow Medicine Show), the well crafted songs on Wishbone live up to the expectations put upon a young man the Wall Street Journal touted as a "promising talent" with "much more to say," after the release of his Liam Watson produced debut album A Winter Tale.
Wishbone is available now at Bobby Long's Official Store, iTunes, and Amazon.

On Wishbone Long taps into a broader pallete of emotions than he has on past releases, eschewing melancholy and eloquently channeling anger and frustration into gritty, hard driving guitar (Long played a majority of the guitar heard on the album) parts that compliment his rough-hewn vocals. Steel guitar provides an apt counter balance, adding a hint of twang and drawn out expanse to the urgency put forth in the lyrics. Throughout the album Long displays his deft control of melody and tone, well practiced over many years of prolific songwriting.
Long has come a good way from his early days playing open mic nights in London while finishing his University thesis on the social impact of American Folk Music. He now finds himself stepping into the pantheon of that grand musical history he so reveres, gigging at major festivals like Bonnaroo, impacting popular culture with performances on the CBS Early Show and Jay Leno, and presented with the humbling opportunity to record Wishbone with Elliott Smith's guitar, graciously lent by studio neighbor Rob Schnapf. Yet with all these significant accomplishments, Long is far from content, and looks forward to bringing Wishbone and a blistering live show to the world in 2013.
ON TOUR NOW!
3/29 Chicago, IL SPACE
3/30 Madison, WI Frequency
3/31 Minneapolis, MN 7th Street Entry
4/1 Milwaukee, WI Turner Hall
4/4 Indianapolis, IN Radio Radio
4/5 Cincinnati, OH 20th Century Theatre
4/6 Nashville, TN 12th & Porter
4/7 Columbus, OH The Basement
4/8 Cleveland, OH The Grog Shop
4/9 Toronto, CA Drake Hotel
4/10 Montreal Divan Orange
4/12 Burlington, VT Higher Ground
4/13 Northampton, MA Iron Horse Music Hall
4/15 NY, NY Mercury Lounge
4/16 Cambridge, MA T. T. The Bear's Place
4/17 Philadelphia, PA World Café Live
4/18 Washington, DC Jammin' Java