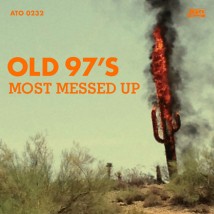 2014
Most Messed Up
Longer Than You've Been Alive
Give It Time
Lets Get Drunk & Get It On
This is the Ballad
Wheels Off
Nashville
Wasted
Guadalajara
The Disconnect
The Ex of All You See
Intervention
Most Messed Up
Download EPK here (includes bio, album art, 2 press photos). For additional press materials, please contact kelly@atorecords.com.
___________________________________________________________
"Blistered, blasted, and brilliant" – New Yorker
"Instant classic…. a killing machine from start to finish" – Salon
"Raucous set looking back on their 20-year run / 4 Stars" – Rolling Stone
Most Messed Up finds the Old 97′s at their raucous, boozy best, all swagger and heart. Titles like "Wasted," "Intervention," "Wheels Off," "Let's Get Drunk And Get It On," and "Most Messed Up" hint at the kind of narrators Miller likes to inhabit, men who possess an appetite for indulgence and won't let a few bad decisions get in the way of a good story. The band is joined by friend Tommy Stinson ( The Replacements, Guns 'n' Roses), who lays down electric guitar on a number of tracks, elevating the sense of reckless musical abandon to new heights and lending the album an air of the Rolling Stones' double-guitar attack.