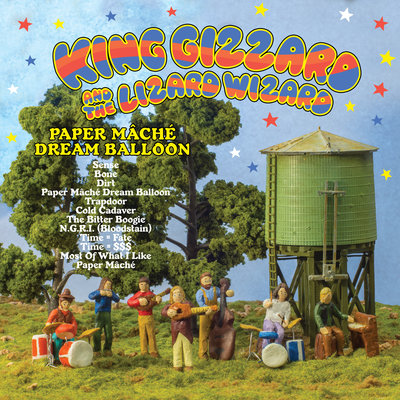 2015
Paper Mâché Dream Balloon
1. Sense 2. Bone 3. Dirt 4. Paper Mâché Dream Balloon 5. Trapdoor 6. Cold Cadaver 7. The Bitter Boogie 8. N.G.R.I. (Bloodstain) 9. Time = Fate 10. Time = $$$ 11. Most Of What I Like 12. Paper Mâché
Paper Mâché Dream Balloon, King Gizzard & The Lizard Wizard's seventh album and their first for ATO Records, is now available. Get the album on orange vinyl, lime green cassette, or as a CD or digital download at the ATO store.
Like many of the world's greatest artists, King Gizzard and the Lizard Wizard are one of the most difficult bands to pin down. The Australian-based septet constantly zig when you think they're about to zag.
Starting out in 2010 as a solid garage rock group, they've followed their collective muse wherever it chose to lead them, whether that be the bluesy alien psychedelia of their 2014 album Oddments or the expansive, almost jazzy, Dead-like head trips of Quarters! Or as frontman Stu Mackenzie puts it, "I always wanted to be a band where you would expect the unexpected each time, with each album being treated like a different phase."
For their latest opus, they initially thought it was going to be filled with the darker, heavier material that the band has been playing live of late. But Mackenzie soon decided that it was time to put aside the longer, more conceptual pieces and go in a completely new direction. Hence, the band's seventh album Paper Mâché Dream Balloon was recorded using nothing but acoustic instruments. The result is a lovely, lilting pop masterpiece that still evokes the same intoxicating exuberance as KGATLW's most recent work, but with a more pastoral, communal feel to it.
That spirit came alive in the writing and recording process. Unlike the last two albums, there is no overarching theme tying it all together. So, rather than cooking the whole thing up as a group in the studio or rehearsal space, the various members of KGATLW wrote separately, bringing their songs to the group as they finished them. "There was a lot of collaboration," says Mackenzie, "but in smaller combinations."
That could have made for a schizophrenic batch of tunes, but the band are so deeply connected at this point that they each reached the same sonic conclusions, combining the rambling pulse of T. Rex ("The Bitter Boogie"), the free-spirited bliss of The Free Design ("Dirt"), and the countryside wanderings of late '60s Kinks ("Bone", "Most of What I Like").
While embracing the limitations of their choice of only acoustic sounds, KGATLW were able to get a little experimental as well. To fill out the sound, they borrowed a batch of instruments that they had never played before—clarinet, double bass, and cello, among them—and eked sounds and melodies out of them. That only helps to add to joyous jumble that is Paper Mâché Dream Balloon.
Too, the band eschewed traditional recording methods for most of this new LP. The bare bones of many of the songs were laid down by Mackenzie in a shipping container that sat on his parents' farm on the Victorian coast of Australia. From there, the band stitched the rest of it together with overdubs and new recordings in their bedrooms and home studios, outside of the closing instrumental "Paper Mâché," which was captured with the help of Unknown Mortal Orchestra bassist Jake Portrait while they were in New York.
As ever, King Gizzard and the Lizard Wizard aren't going to rest in this acoustic wonderland for long. The band is already gearing up for another long stretch of touring, where they will be adapting some of these tunes for their electrified lineup as well as returning to the heavier material they were already working on.
"I think everyone knows what this band is about," Mackenzie says. "I have always been afraid of being pigeonholed. The band personality is to try and do something that you wouldn't expect."
Mission accomplished.