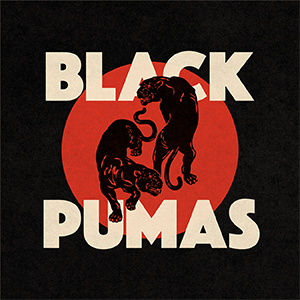 2019
Black Pumas
Black Moon Rising
Colors
Know You Better
Fire
Oct 33
Stay Gold
Old Man
Confines
Touch The Sky
Sweet Conversations
"A debut so perfectly realized by the standards they've set themselves that you wonder what could possibly come next." — The Guardian
"Few artists seem to tap the collective unease of the national moment quite like Austin's Black Pumas…never missing a beat is the tireless, charismatic energy of singer Eric Burton."
— Rolling Stone
"The Austin favorites need to be seen to be appreciated…(Burton's) presence on stage is robust, a whirlwind of movement and gesture." — Chicago Tribune
Today, Black Pumas — deemed "the breakout band of 2019" by NPR's Here & Now — release their "perfectly realized" (The Guardian) self-titled debut album. A collaboration between 28-year-old busker-turned-frontman Eric Burton and Grammy-winning guitarist/producer Adrian Quesada, the album marks a landmark year for the burgeoning Austin-based group, who've gone from local phenomenon to a tour-de-force that's winning over fans on both sides of the Atlantic.
Purchase your Limited Edition vinyl here.
Watch the '70s horror movie-inspired new video for "Black Moon Rising" — the winner of Song Of The Year at the 2019 Austin Music Awards below
After making their name during a residency at C-Boys in Austin that quickly became "the hottest party in town" (Austin-American Statesman) on the back of Burton's "whirlwind of movement and gesture" (Chicago Tribune), Black Pumas have emerged not only as a live juggernaut but an incredibly capable and creative studio band. Across 10 tracks, the band brings together woozy Ghostface Killah instrumentals, Motown rhythms, and the introspective grandeur of dusty highway folk-rock to create what Uncut calls "a soul explosion."
Today, the band also announce an extensive series of tour dates throughout the rest of the year, including dates in New York, Los Angeles and throughout Europe. This follows their recent European tour opening for The Heavy. Full dates below.
Tour Dates:
6/28 – The Kessler Theater – Dallas, TX
6/29 – Crystal Bridges – Bentonville, AK
7/2 – Summerfest – Milwaukee, WI
7/4 – Drake Hotel – Toronto, ON
7/5 – Festival International de Jazz de Montreal – Montreal, Canada
7/6 – Festival D'Été De Québec – Quebec, Canada
7/7 – Nectar's – Burlington, VT
7/10 – Spirit – Pittsburgh, PA
7/11 – WTMD First Thursday Festival – Baltimore, MD
7/12 – The Basement – Columbus, OH
7/13 – Headliners Music Hall – Louisville, KY
7/14 – 3rd and Lindsley – Nashville, TN
7/16 – The Raccoon Motel – Davenport, IA (sold out)
7/17 – 7th St Entry – Minneapolis, MN
7/18 – Shitty Barn – Spring Green, WI (sold out)
7/19 – Space – Evanston, IL (Chicago)
7/20 – El Club – Detroit, MI
7/23 – Brighton Music Hall – Boston, MA
7/27 – Lincoln Center (Out of Doors Festival) – NYC
7/29 – Mercury Lounge – NYC
8/23 – Mohawk – Austin, TX
9/7 – Spanish Moon – Baton Rouge, LA
9/11 – The Southern – Charlottesville, VA
9/12 – U Street Music Hall – Washington, D.C.
9/13 – StageOne – Fairfield, CT
9/14 – Iron Horse – Northampton, MA
9/18 – The Foundry – Fillmore Philly – Philadelphia, PA
9/20 – Brooklyn Bowl – Brooklyn, NY
9/21 – Sea.Hear.Now. Festival – Asbury Park, NJ
9/23 – Barley's Tap Room – Knoxville, TN
9/25 – Off Broadway – St. Louis, MO
9/26 – Pygmalion Music Festival – Urbana, IL
9/27 – Growlers – Memphis, TN
10/9 – Blue Light Live – Lubbock, TX
10/11 – Globe Hall – Denver, CO
10/14 – The State Room – Salt Lake City, UT
10/18 – Neumos – Seattle, WA
10/19 – Doug Fir Lounge – Portland, OR
10/22 – The Independent – San Francisco, CA
10/24 – Lodge Room – Los Angeles, CA
10/25 – Soda Bar – San Diego, CA
10/26 – Rhythm Room – Phoenix, AZ
10/27 – 191 Toole – Tucson, AZ
11/7 – Le Fuzz'yon – La Roche-sur-Yon, France
11/8 – La Boule Noire – Paris, France
11/9 – Aghja – Ajaccio, France
11/10 – Le Plan – Ris-Orangis, France
11/12 – Frannz Club – Berlin, DE
11/13 – Helios 37 – Cologne, DE
11/15 – Ancienne Belgique – Brussels, BE
11/16 – Cinetol – Amsterdam, NL
11/17 – Le Grand Mix – Tourcoing, France
11/19 – The Louisiana – Bristol, UK
11/20 – Dingwalls – London, UK
11/21 – YES (The Pink Room) – Manchester, UK
11/22 – Audio Glasgow – Glasgow, UK
11/23 – The Grand Social – Dublin, IE
Follow Black Pumas

Facebook: https://www.facebook.com/theblackpumas/
Instagram: https://www.instagram.com/theblackpumas/
Twitter: https://twitter.com/blackpumasmusic