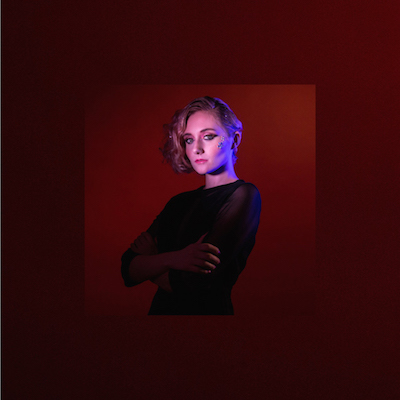 NPR announces new Jessica Lea Mayfield album 'Sorry Is Gone with video
Sorry Is Gone, the highly anticipated new full-length album from Jessica Lea Mayfield, will be released September 29 on ATO Records and is now available for pre-order.
In advance of the release, the official music video for the album's title track is premiering today at NPR Music. Of the song, NPR Music's Bob Boilen praises, "Jessica Lea Mayfield is taking back her life. 'Sorry Is Gone,' the title track to her next album, is a song of empowerment that finds the singer moving past a difficult period in her life…Despite the weight of that, the song feels breezy, flowing and freeing." Watch/share the video HERE.
The 11-track record was recorded at Water Music and Electric Lady studios with producer John Agnello (Kurt Vile, Sonic Youth, Dinosaur Jr., Phosphorescent). In addition to Mayfield, the album features a variety of world-renowned musicians including Seth Avett on backing vocals and keys, drummer Steve Shelley (Sonic Youth, Sun Kill Moon), bassist Emil Amos (Grails, Holy Sons) and guitarist Cameron Deyell (Sia, Streets of Laredo.) with additional production from Patrick Damphier (The Mynabirds).
Of the record, Mayfield comments, "The whole record is about me taking my life back, without really realizing it. I realized I'm the only person that is going to look out for me. I have to be my main person. No one else." She continues, "I have to sing about things and write about things that have happened to me as therapy. That's what connects me to other music I listen to. I want music to make me feel things. This is my inner dialogue, and my chance to get the last word."
In support of the release, Mayfield will embark on an extensive tour this fall including shows at NYC's Baby's All Right, DC's Songbyrd, Nashville's The Basement East and Chicago's The Empty Bottle among many others. All tickets go on-sale this Friday, July 28. See below for complete details.
Sorry Is Gone is Mayfield's first solo album since 2014's Make My Head Sing…, which was released to widespread acclaim. Of the album, Rolling Stone asserted, "…Mayfield's echo-laden bluegrass vocals mesh with scorching electric guitar lines to render remarkable results," while Pitchfork praised, "There's something certainly compelling about this raw, minimalist sound" and NPR's Fresh Air proclaimed, "The music is heavy, but it soars." Additionally Interview Magazine declared, "Mayfield sounds like she's finally arrived" and USA Today affirmed, "Her evolution as an artist has been fascinating to hear." Most recently, in 2015, Mayfield collaborated with Seth Avett on Seth Avett and Jessica Lea Mayfield Sing Elliott Smith.
SORRY IS GONE TRACK LISTING
Wish You Could See Me Now
Sorry Is Gone
Meadow
Maybe Whatever
Soaked Through
Safe 2 Connect 2
Bum Me Out
WTF
Offa My Hands
World Won't Stop
Too Much Terrible
JESSICA LEA MAYFIELD TOUR
October 12—Columbus, OH—Rumba Cafe
October 13—Lakewood, OH—Mahall's 20 Lanes
October 14—Pittsburgh, PA—Club Cafe
October 15—Toronto, ON—The Rivoli
October 17—New York, NY—Baby's All Right
October 19—Boston, MA—Great Scott
October 20—Philadelphia, PA—Boot & Saddle
October 21—Washington, DC—Songbyrd
October 23—Charlottesville, VA—The Southern
October 24—Cat's Cradle Back Room—Carrboro, NC
October 25—Knoxville, TN—The Open Chord
October 26—Asheville, NC—The Altamont
October 27—Atlanta, GA—The Earl
October 28—Charlotte, NC—Stage Door Theater
November 3—Nashville, TN —The Basement East
November 8—Indianapolis, IN—Hi-Fi
November 9—Chicago, IL—The Empty Bottle
November 10—Milwaukee, WI—The Back Room at Colectivo
November 11—Minneapolis, MN—7th Street Entry
November 12—Madison, WI—The Frequency
November 14—Davenport, IA—The Raccoon Motel
November 15—Des Moines, IA—Vaudeville Mews
November 16—Kansas City, MO—The Riot Room
November 17—St. Louis, MO—Off Broadway
November 18—Louisville, KY—Zanzabar