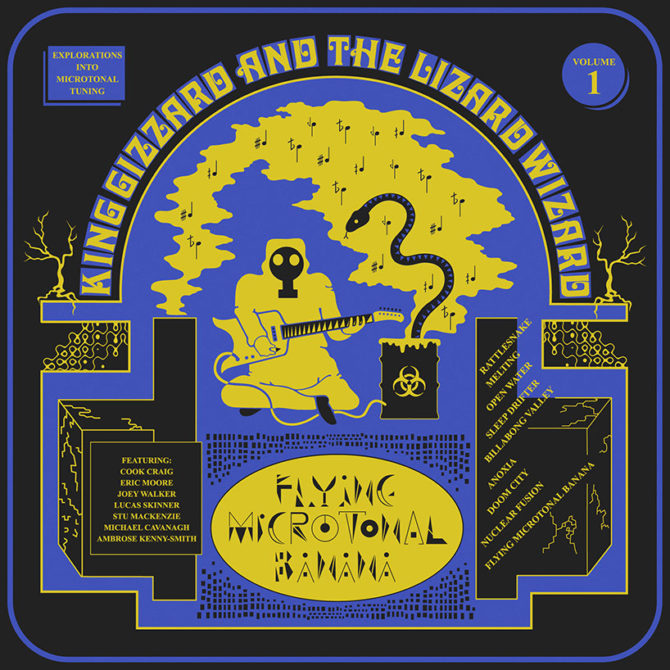 TRACK LIST
Rattlesnake
Melting
Open Water
Sleep Drifter
Billabong Valley
Anoxia
Doom City
Nuclear Fusion
Flying Microtonal Banana
About this album
Flying Microtonal Banana, King Gizzard & The Lizard Wizard's ninth studio album, is now available. Get the album on highlighter yellow vinyl with a limited-edition first pressing gold foil cover, CD, or digital download at the ATO store and receive a limited-run behind-the-scenes zine documenting the making of the album while supplies last.
King Gizzard & The Lizard Wizard are the most exciting head-spinning, third-eye opening, double-drumming goddamn rock 'n' roll band on the planet.
Following the frazzled freakbeat of 2016's Nonagon Infinity, the endlessly inventive septet return in 2017 with new album Flying Microtonal Banana, their ninth studio album in five years, and the first of five – count 'em – planned new albums to be recorded and released in 2017 and beyond.
Flying Microtonal Banana marks another subtle shift in sound as King Gizzard & The Lizard Wizard drive deep into trance-inducing drones, inventive jazz flourishes, non-Western musical scales and metronomic rhythms that motor along like a well-oiled engine. So unique and evolved is the album's sound that it necessitated a total reinvention of the band's instruments after they began experimenting with a custom microtonal guitar made for frontman Stu Mackenzie.  Inspired by the movable frets of the Turkish bağlama, three cheap old guitars and a bass were customized in order to explore a new set of musical notes. A keyboard and mouth organ followed suit and so Flying Microtonal Banana was born.
Recorded in their own studio Brunswick East in Melbourne, the album also incorporates liberal use of the stirring tones of a Turkish horn called a zurna, as heard on the likes of 'Billabong Valley', the purple smoke-enshrouded, sub-Sabbath 'Doom City' and the moving musical miasma that is the album's utterly transcendental title track. "The zurna's notes are really malleable," says Stu. "It's a bendy, wobbly-sounding instrument, and blends perfectly with the secret notes on the guitar".
The unexpected is just about only thing we have come to expect from the Melbourne band. Via a series of carefully considered yet wildly divergent concepts – a cyclically-constructed album here, a set comprised exactly of four songs of 10 mins and 10 seconds in length there – The Gizz's collective body of work offers visceral thrills a-plenty without ever once resorting to indulgence or filling their own navels with drool. Their music works on so many levels, providing a transcendental, hair-swinging soundtrack for some, a transportive journey to the centre of one's id for others, while in their more reflective moments also tenderly offering succour and guidance for the lost and spiritually malnourished.
Formed in 2010 in Geelong, fifty miles outside of Melbourne (where they now reside) as a jam band off-shoot of a variety of other projects, King Gizzard & the Lizard Wizard released their debut album 12 Bar Bruise in 2012, just as many astrologers believed the new Age of Aquarius was beginning. Coincidence? Probably, but to the wider world it certainly appeared as if the stars had aligned to beam this band in from another dimension, fully-formed and ready to melt faces.
Appearances can be deceptive though. King Gizzard's work ethic is way too hardcore for them to be dismissed as beatnik bums. Instead their constant creative output and dogged touring schedule harks back to, say, James Brown or Miles Davies, when artists thought nothing of cutting a handful of albums, per year and touring them. Frontman Stu Mackenzie also mentions the diversity of Neil Young's career as one inspiration, and AC/DC's commitment to a singular vision as another.
Today they find themselves as part of a clutch of bands (see also: Thee Oh Sees, Tame Impala, Goat, Ty Segall, Uncle Acid & The Deadbeats) each reinventing psychedelia for this strange new age of psychic tension and confusion. Make no mistake though, the freewheeling seven-piece are surfing their own larval tube until it breaks onto new shores of bubbling magma. They have created their own universe and inhabit it entirely, as seen and heard on their regular touring get-together, Gizzfest.
A locked-in, groove-heavy album about mind control, 2014's I'm In Your Mind Fuzz was their first UK release for Heavenly Recordings and hailed by many as a masterwork of precision delivery and luminescent vision, where songs and tempos were capable of turning on a sixpence amidst musical pyrotechnics built, duelling guitars, wailing blasts of ear-cleaning harmonica and two sets of drums doing percussive battle.
King Gizzard & the Lizard Wizard's first Top 20 album, 2016's Nonagon Infinity, was an infinitely looping album whose last song lead straight back into its opener like a "sonic mobius strip", and sounded somehow akin to 13th Floor Elevators tackling kosmiche rhythms at frantic punk pace, while deviating along the way into thrusting glam rock, blues freak-outs and Hawkwind-esque stratospheric space-rock.
This band are not entirely about cranking it up for some lid-flipping wild abandon though: 2015's Paper Mâché Dream Balloon saw The Gizz in sun-drenched Sunday morning comedown mode of fluttering flutes and flowing robes; playful folk-pop innocence re-rediscovered in a self-cultivated musical garden of Eden. It remains the ultimate aural balm and salve to sooth the traumas of modern living. "It's dinner party music!" laughs Mackenzie, who has clearly been dining at different places to most.
And now the wormhole takes an ever stranger turn as King Gizzard & The Lizard Wizard enter their most prolific purple patch yet, boring deeper through the shallow surface of the 21st century to explore the various sub-strata that sit beneath this thing called life.
They're already recording another album which, although a stand-alone work, will join the dots between thunderous psyche-garage of I'm In Your Mind Fuzz and Nonagon Infinity, and also a jazz-based collaboration with Alexander Brettin of similarly psychedically-minded pals Mild High Club. It's non-stop on Planet Gizzard.
The big takeover continues…
King Gizzard & the Lizard Wizard are: Stu Mackenzie (vocals / guitar/ flute), Ambrose Kenny Smith (harmonica / vocals), Craig Cook (guitar / vocals), Eric Moore (drums), Joey Walker (guitar), Lucas Skinner (bass) & Michael Cavanagh (drums).
OTHER ALBUMS BY King Gizzard & The Lizard Wizard