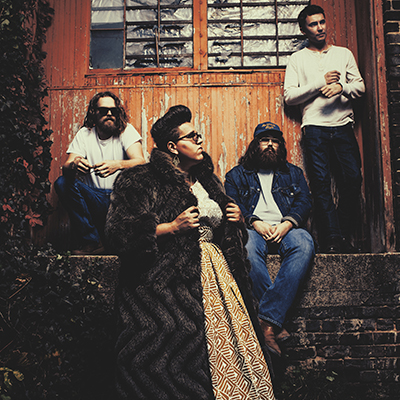 Stream Alabama Shakes 'Sound & Color' on NPR First Listen!
You can now stream Alabama Shakes' new album Sound & Color, out April 21, at NPR. Listen to the album here. Ann Powers says of the new album:
"This album, so much more confident and wide-ranging than the band's outstanding 2012 debut Boys & Girls, is not merely Southern rock, any more than the Allman Brothers are merely Southern rock. … It has punk elements, a song called "Shoegaze," punishing heavy-metal chords, and falsetto singing that might make Prince envious. There are love songs like "Miss You," spiked with charming little details, and cosmic adventures like "Future People" and the profane, biblical "Dunes." These songs take their time, stretching time, turning it vertical and sideways through riffs, keyboard lines and rhythms that beg for organic metaphors of river currents and shifting sediment.
As a singer, Howard can deliver any blues or soul cliché with ease — or any rock cliché, for that matter — but her approach is singular. It's punk in its refusal to conform, glam in its theatrical flair, jazz in its self-directed, often unexpected musicality."