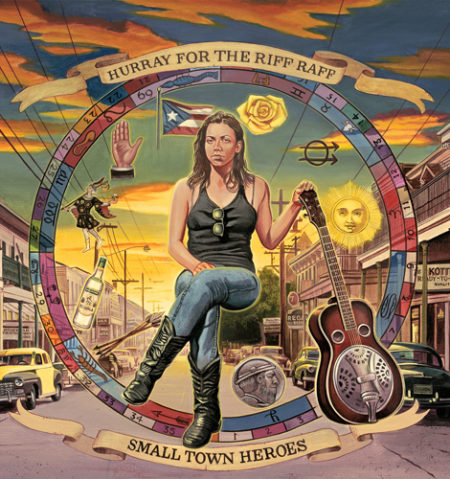 Hurray for the Riff Raff 'Small Town Heroes' Listening Parties
To celebrate Hurray for the Riff Raff's highly anticipated album Small Town Heroes on February 11, ATO Records and Small Batch America are hosting release parties across the country at independent record stores with the "small town heroes" of the independent food and drink communities across the country.
The events will allow people to listen to the new record at the shop while sampling local indie food and drink makers curated by Small Batch America. Stores include Music Millennium in Portland, Grimey's New & Preloved Music in Nashville, Waterloo Records in Austin, Rough Trade Records in Brooklyn and Euclid Records in New Orleans where the band will be performing live. The shops will be hosting giveaways of limited edition fine art prints with the Small Town Heroes album art, pink vinyl, silk-screened valentines signed by lead singer Alynda Lee Segarra, show tickets and more!
Small Batch America, an organization providing information and opportunities to the burgeoning independent food and drink community, curated over three-dozen local makers to take part in these unique events – some making something of a debut at the events like Rocks & Gravel Coffee (Brooklyn) and Eli Mason cocktail syrups (Nashville). SBA founder Tom Monday says of the events, "People go to independent record shops in search of music that's new, interesting, and authentic – like Small Town Heroes – so this is an awesome opportunity to introduce them to indie food and drink makers that fit that description, too."
Kyle Buckley of Brooklyn-based Grady's Cold Brew says, "We're looking forward to hearing some awesome music and serving up our coffee – when the opportunity came up of course we wanted to be involved."
"We're excited to be including some of our favorite small-batch products in these cool events for Hurray for the Riff Raff. When Small Batch America came to us with the opportunity, saying yes was a no brainer!" says Erin Zimmer of Good Eggs, a local food delivery service participating in the Brooklyn and New Orleans events.
Small Town Heroes has been named "already one of the best records of 2014," by Esquire, NPR, SPIN, Slate and CMT. Segarra has been called the "voice of a generation," by Billboard, Offbeat and Wall Street Journal, while NPR calls her "the voice of the future."
Information on each listening party can be found below.
New Orleans – Euclid Records
3401 Chartres Street
6pm
Empanada Intifada www.empanadaintifada.com
Rocket Girl www.facebook.com/rocketgirltreats
French Truck Coffee  www.frenchtruckcoffee.com
Velvet www.throwacupcake.com
La Parisiennewww.laparisienne.la
Mona's www.facebook.com/monas-cafe-middle-eastern-restaurant
Bakery Noble www.goodeggs.com/bakerynoble
Ryals Rocking R Dairy www.rockingrdairy.com
Country Girls Creamery www.countrygirlscreamery.com
Gracious Bakery www.graciousbakery.com
Good Eggs www.goodeggs.com/nola
Bearded Brothers www.beardedbros.com
World Peas www.makepeas.com
Pizza Delicious www.pizzadelicious.com
Austin – Waterloo
http://www.waterloorecords.com/Home
600 North Lamar
1pm
Good Pops www.goodpops.com
Bearded Brothers www.beardedbros.com
KosmicKombuchawww.kosmickombucha.com
World Peas www.makepeas.com
Liber & Co. www.liberandcompany.com
Great Bean Chocolate www.greatbeanchocolate.com
Nashville – Grimey's
1604 8th Avenue South
Noon-1pm
Prohibition Popcorn www.prohibitionpopcorn.com
Eli Mason www.elimason.com
Haulin' Oats www.haulin-oats.com
Southern Delights www.southerndelightsbyoakley.com
Firepot Chai www.firepotchai.com
Soberdoughwww.soberdough.com
Bang Candy Company www.bangcandycompany.com/
Brooklyn – Rough Trade
64 North 9th Street
6:30pm
Grady's Cold Brew www.gradyscoldbrew.com
The Jam Stand www.thej.am
Beehive Biscuits www.beehiveoven.com
Mama O's Kimcheewww.kimchirules.com
A & B American Hot Sauce www.abamerican.com
Krumville Bakeshop www.krumvillebakeshop.com
Anita's Coconut Creamline Yogurtwww.anitas.co
Good Eggs www.goodeggs.com/nyc
Rocks & Gravel www.rocksandgravelcoffee.com
Portland – Music Millennium
http://www.musicmillennium.com/Home
3158 Burnside St.
6pm
Masala Popwww.eatmasalapop.com
Conundrum Granola www.conundrumpdx.com
Jacobsen Salty Black Licorice www.jacobsensalt.com
Hot Mama Salsa www.hotmamasalsapdx.com
Ps & Qs Market www.psandqsmarket.com
Woodblock Chocolate www.woodblockchocolate.com
Portland Soda Works www.portlandsoda.com
Moonbrine Pickles www.moonbrine.com